Celebrated Queer Historian Complains to Halifax Pride Over Israeli Tourism Presence
Posted by Wayves Volunteer 27/07/14
By Gary Kinsman
July 26, 2014
Dear Halifax Pride Committee: This morning before I went to the Halifax Pride Parade I checked the news media and found out that the Israeli military onslaught on Gaza had at that point killed close to 1,000 people and injured close to 5,000 people. Whole families had been wiped out and even UN shelters had been bombed by Israeli forces. The vast majority of those killed were civilians, including many women and children.
A July 23rd statement by Navi Pillay, UN High Commissioner for Human Rights, warned of possible war crimes committed by the Israeli government and military. I am also aware that since 2005 Palestinian civil society – including Palestinian gay, lesbian and queer groups -- have called for a Boycott, Divestment and Sanctions (BDS) campaign to get the Israeli state to obey international law in relation to the Palestinians through ending the occupation of Palestinian territories, ending the pervasive discrimination against Palestinians living in Israel, and allowing for Palestinian refugees to return to the homes they were forced to flee from (see the Palestinian BDS National Committee below).
This demand for BDS was recently re-iterated in a call from civil society in Gaza to end the military onslaught and occupation (see below). This BDS campaign is directly modelled on the successful BDS campaign that was called for by people in South Africa against South African apartheid. This global BDS campaign includes a boycott of gay tourism to places like Tel Aviv until the Israeli state (which funds and promotes this tourism) obeys international law regarding the Palestinian people.
Following the Pride parade I went and looked at the information booths. In the context noted above I was shocked and horrified to see a booth promoting gay tourism to Tel Aviv in violation of the global boycott called for by Palestinian civil society. Very shortly after I began to talk to the people at the booth to express my feelings about this booth being there I noticed the person I was speaking to waving someone over.
Ramona Westgate, the chair of the Pride Committee, arrived very shortly thereafter. She informed me that I could not stay there and continue the conversation and if I wanted to talk to her about it I had to move away from the table. Basically it seemed that I had no right to talk to people at the Tel Aviv tourism booth in any critical fashion. I found this an infringement on my freedom of speech.
I also learned that earlier a member of the Rad Pride Collective who had been flyering about an upcoming demo against the assault on Gaza and about queer critiques of Israeli Apartheid (state separation and segregation policies directed against the Palestinians) has been told they had no right to be anywhere near that booth handing out information. This is also a major restriction on freedom of speech. In practice the Pride Committee was not only violating a global boycott campaign but was also defending Israeli state interests against queer supporters of the rights of the Palestinian people.
The example I raised with Ramona that she did not seem to want to talk about was whether it would have been appropriate during the time of South African apartheid for a booth supporting white gay tourism to South Africa to be present at Pride in violation of the global BDS campaign called for by popular organizations in South Africa.
As someone involved in queer anti-South African apartheid activism (in the Simon Nkoli Anti-Apartheid Committee) I certainly hope the answer would be that such a booth would not be allowed and would violate the principles of Pride. I would argue that in the current context to have a booth promoting tourism to Tel Aviv in violation of the BDS campaign called for by the Palestinian people is likewise a violation of the history and principles of Pride.
I am writing this letter as an official complaint to the Halifax Pride Committee in the hope that it will be discussed by the Committee. My complaint relates both to allowing Tel Aviv tourism to have a booth at the Pride fair after the march but also to how the Pride Committee stifled my freedom of speech when I raised my objections in discussion with the people staffing the booth.
I ask that the Halifax Pride Committee adopt as part of its code of ethics/responsibility for people having booths at Pride that these booths do not violate the global BDS campaign called for by the Palestinian people. To not do this is not to be 'neutral' or 'non-political' but is actually to be very political is supporting the Israeli state against the people of Palestine – including lesbian, gay, queer Palestinians.
I also write this as a gay and queer liberation activist from the 1970s on and as one of the founders of both the Toronto Lesbian and Gay Pride Day Committee in 1981 and a founder of the Sudbury Lesbian and Gay Pride Day Committee in 1997. Yours sincerely, Gary Kinsman
Editor's Note: Wayves changed its headline for this article after receiving a note from the author that our original wording inacurately presented his action in addressing the Halifax Pride Committee. Wayves was happy to comply.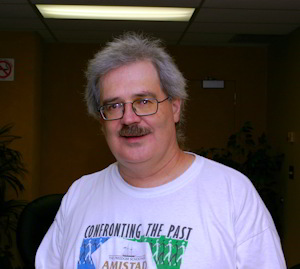 Gary Kinsman is one of the most celebrated Queer historians in Canada. His books include The Regulation of Desire and The Canadian War on Queers: National Security as Sexual Regulation. You can read more about Mr. Kinsman here. 
The Statements of Palestinian Civil Society and by the Palestinian BDS National Committee referenced by Mr. Kinsman and included with his letter can be read in their entirety below. 
Urgent call from Gaza civil society: Act Now!
We, Palestinians trapped inside the bloodied and besieged Gaza Strip, call on conscientious people all over the world, to act, protest, and intensify the boycotts, divestments and sanctions against Israel until it ends this murderous attack on our people and is held to account.
With the world turning their backs on us once again, for the last four days we have in Gaza been left to face massacre after massacre. As you read these words over 120 Palestinians are dead now, including 25 children. Over 1000 have been injured including countless horrifying injuries that will limit lives forever – more than two thirds of the injured are women and children. We know for a fact that many more will not make it through the next day. Which of us will be next, as we lie awake from the sound of the carnage in our beds tonight? Will we be the next photo left in an unrecognizable state from Israel's state of the art flesh tearing, limb stripping machinery of destruction?
We call for a final end to the crimes and oppression against us. We call for:
Arms embargos on Israel, sanctions that would cut off the supply of weapons and military aid from Europeand the United States on which Israel depends to commit such war crimes;
Suspension of all free trade and bilateral agreements with Israel such as the EU-Israel Association agreement;
Boycott, divestment and sanctions, as called for by the overwhelming majority of Palestinian Civil Society in 2005
Without pressure and isolation, the Israeli regime has proven time and time again that it will continue such massacres as we see around us now, and continue the decades of systematic ethnic cleansing, military occupation and apartheid policies.
We are writing this on Saturday night (July 12), again paralyzed in our homes as the bombs fall on us in Gaza. Who knows when the current attacks will end? For anyone over seven years old, permanently etched on our minds are the rivers of blood that ran through the Gaza streets when for over 3 weeks in 2009 over 1400 Palestinians were killed including over 330 children. White phosphorous and other chemical weapons were used in civilian areas and contaminating our land with a rise in cancers as a result. More recently 180 more were killed in the week-long attacks in late November 2012.
This time what? 200, 500, 5000? We ask: how many of our lives are dispensable enough until the world takes action? How much of our blood is sufficient? Before the Israeli bombings, a member of the Israeli Knesset Ayelet Shaked of the far-right Jewish Home party called for genocide of the Palestinian people. "They should go, as should the physical homes in which they raised the snakes," she said. "Otherwise, more little snakes will be raised there." Right now nothing is beyond the murderous nature of the Israeli State, for we, a population that is mostly children, are all mere snakes to them.
As Omar Ghraib said in Gaza, "It was heart shattering to see the pictures of little boys and girls viciously killed. Also how an elderly woman was killed while she was having her iftar at Maghreb prayer by bombing her house. She died holding the spoon in her hand, an image that will need a lot of time to leave my head."
Entire houses are being targeted and entire families are being murdered. Early Thursday morning the entire Al-Hajj family was wiped out – the father Mahmoud, mother Bassema and five children. No warning, a family targeted and removed from life. Thursday night, the same again, no warning, 5 more dead including four from the Ghannam family, a woman and a seven year old child amongst them.
On Tuesday morning the Kaware family did get a phone call telling them their three-storey house would be bombed. The family began to leave when a water tank was struck, but then returned with members of the community, who all came to the house to stand with them, people from all over the neighbourhood. The Israeli jets bombed the building with a roof full of people, knowing full well it was full of civilians. 7 people died immediately including 5 children under 13 years old. 25 more were injured, and 8 year old Seraj Abed al-Aal, succumbed to his injuries later that evening. Perhaps the family was trying to appeal to the Israeli regime's humanity, surely they wouldn't bomb the roof full of people. But as we watch families being torn apart around us, it's clear that Israel's actions have nothing to do with humanity.
Other places hit include a clearly marked media vehicle killing the independent journalist Hamed Shehab, injuring 8 others, a hit on a Red Crescent rescue vehicle and attacks on hospitals which caused evacuations and more injuries.
This latest session of Israeli barbarity is placed firmly in the context of Israel's inhuman seven-year blockade that has cut off the main life-line of goods and people coming in and out of Gaza, resulting in the severe medical and food shortages being reported by all our hospitals and clinics right now. Cement to rebuild the thousands of homes destroyed by Israeli attacks had been banned and many injured and ill people are still not being allowed to travel abroad to receive urgent medical treatment which has caused the deaths of over 600 sick patients.
As more news comes in, as Israeli leaders give promises of moving onto a next stage in brutality, we know there are more horrors yet to come. For this we call on you to not turn your backs on us. We call on you to stand up for justice and humanity and demonstrate and support the courageous men, women and children rooted in the Gaza Strip facing the darkest of times ahead. We insist on international action:
Severance of diplomatic ties with Israel
Trials for war crimes
Immediate international protection of the civilians of Gaza
We call on you to join the growing international boycott, divestment and sanction campaign to hold this rogue state to account that is proving once again to be so violent and yet so unchallenged. Join the growing critical mass around the world with a commitment to the day when Palestinians do not have to grow up amidst this relentless murder and destruction by the Israeli regime. When we can move freely, when the siege is lifted, the occupation is over and the world's Palestinian refugees are finally granted justice.
ACT NOW, before it is too late! •
Signed by:
Palestinian General Federation of Trade Unions
University Teachers' Association in Palestine
Palestinian Non-Governmental Organizations Network (Umbrella for 133 organizations)
Medical Democratic Assembly
General Union of Palestine Workers
General Union for Health Services Workers
General Union for Public Services Workers
General Union for Petrochemical and Gas Workers
General Union for Agricultural Workers
Union of Women's Work Committees
Pal-Cinema (Palestine Cinema Forum)
Youth Herak Movement
Union of Women's Struggle Committees
Union of Synergies – Women Unit
Women's Studies Society
Working Woman's Society
Press House
Gaza BDS Working Group
Israel must be held accountable for its collective punishment of Palestinians
by Palestinian BDS National Committee
- Palestinian organisations condemn Israeli operations in West Bank and Gaza as collective punishment
- Palestinians call for military embargo and boycott action
Palestinian boycott, divestment and sanctions (BDS) activists are urging governments and international civil society to take action to hold Israel to account for its continued collective punishment of Palestinians in the West Bank and Gaza following the disappearance and killing of three Israeli settlers.
Zaid Shuaibi, a spokesperson for the Palestinian BDS National Committee, the civil society coalition that leads and supports the BDS movement, said:
"Israel's on-going actions are designed to terrorise Palestinians and constitute collective punishment. Military violence, collective punishment and the deliberate targeting of civilians are endemic to Israel's of decades old system of occupation, colonisation and apartheid."
"Israel is able to act with utter impunity because of the military, economic and political support it receives from governments around the world. We call on international governments to impose a two-way arms embargo immediately and to suspend bilateral agreements until Israel fully complies with international law".
"At a time when mainstream bodies such as the Bill Gates Foundation, the Presbyterian Church USA and the US​ United Methodist Church are divesting from companies profiting from Israel's occupation, including G4S and Hewlett Packard, we call on people of conscience to intensify BDS pressure."
Shuabi also called on people of conscience and supporters of BDS to consider joining the Month Against the Apartheid Wall that is marking the 10th anniversary of the International Court of Justice ruling that Israel's apartheid Wall is illegal.
Hundreds of military raids have been launched across the occupied West Bank since June 12, with more than 1000 private homes and refugee camps and the offices of civil society organisations ransacked.
At least 10 Palestinians have been killed and many more have been injured. More than 500 Palestinians have been detained and initial reports suggest that many of those arrested are held under administrative detention, a form of detention without charge or trial on secret evidence. The number of children held in Israeli jails has risen to 250. Israel has also imposed severe restrictions of movement.
On Wednesday, Israeli settlers kidnapped and killed a 16 year old from the Shuafat area of Palestinian East Jerusalem and Israeli soldiers attacked Palestinians in Jerusalem.
Palestinian organisations have detailed how Israel's recent actions constitute collective punishment, a crime prohibited by the Fourth Geneva Convention as well as customary international humanitarian law.
Israeli occupation forces have also targeted the campuses of Birzeit University near Ramallah and the Arab American University in Jenin, resulting in the detention and arrest of students and staff and greatly infringing the Palestinian right to education.
Samia Botmeh, a professor at Birzeit University and a steering committee member with the Palestinian Campaign for the Academic and Cultural Boycott of Israel, said:
"Israel's latest violations against Palestinian universities are part of its long history of oppression aimed at Palestinian education. Closure of universities for periods stretching to years, murder and detention of students and professors, destruction of universities' properties and labs as well as the banning of lists of books have been Israel's systematic policies targeting Palestinian education."
"It must be emphasized that throughout the decades of oppression, no Israeli university or association of Israeli academics has ever protested the sustained assaults on Palestinian universities.  It is essential to intensify all forms of BDS, including the academic and cultural boycott, until Israel ends its violations of Palestinian rights."
Israel has conducted at least 100 airstrikes and shellings of Gaza in recent days, including an intense bombing of dozens of locations in the early hours of Tuesday, further worsening the situation for Palestinians in Gaza, which has been under a brutal military siege for more than 7 years.
Haidar Eid, associate professor at Al-Aqsa University in Gaza and a PACBI steering committee member, said:
"We, residents of Gaza, have been unable to fathom how it is that official bodies of the international community tolerate blatant war crimes committed against the people of Gaza, in spite of thousands of reports by mainstream human rights organizations!"
"Is it farfetched to expect people of conscience to heed our call to boycott this intransigent, racist and militarized Israeli regime and the institutions that keep it thriving, the same way apartheid South Africa was boycotted until it crumbled?"
Ayah Abubasheer, a youth and BDS activist in Gaza, added:
"During the past few weeks, Israel has been violently and intensely launching a series of air strikes against the Gaza Strip. The population of the Gaza Strip continues to pay the price and bear the blaze of Israel's polices."
"Because collective punishment is a war crime under the Geneva Conventions, we urge the international community to pressure Israel to end its all-out military assault aimed against the total population of Gaza, open Rafah crossing permanently and heed our call for boycotts, divestment and sanctions."
Learn more here!