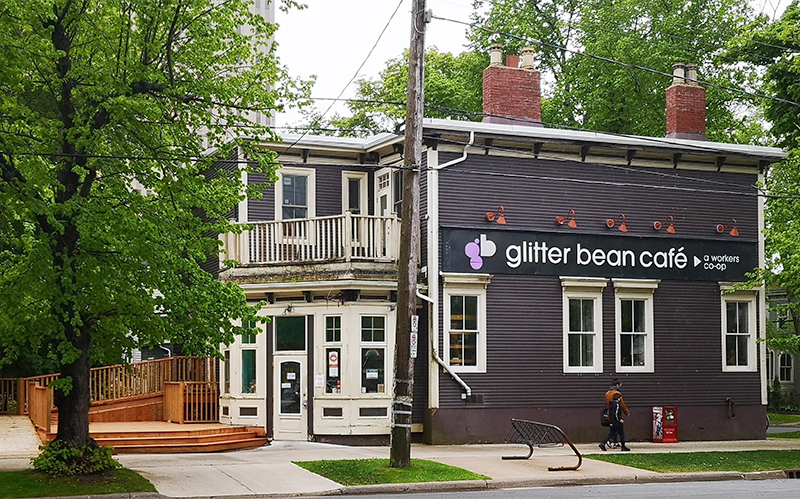 Editor's note: the Glitter Bean has recently announced a GoFundMe campaign to cover a variety of costs.  Details are at the bottom of the article.
Editor's note 2: VERY shortly after publication, Glitter Bean announced that thanks to the GoFundMe success, they are closing July 29 - August 6 for a little renovation and repair and training new staff members!
At the intersection of Carleton and Spring Garden — just ten minutes down from the Dalhousie campus — lies a cheerful Victorian house. Tastefully painted in a deep purple and garnished with an ever-changing chalkboard sign, the building houses Glitter Bean Café, a worker-owned, queer-centred co-op founded in 2018.
With sunny bay windows and sparkling décor, Glitter Bean lives up to its name; I can't tell you how many times I've visited. The café is a staple in the Halifax queer community and coffee scene alike.
Though the café is a mere five years old, its strong identity predates the rainbow "GB" logo. The café was first conceived in 2018, making its home in what used to be a branch of Smiling Goat Organic Espresso Bar.
The founding members were former employees of Smiling Goat; there was always a sense of comeradery among the group. When financial issues began to plague workers (CBC story here) this worker-to-worker support system only grew stronger.
Murmurs of organization began in March of 2018 (CBC story), followed by a strike. This community, forged from worker solidarity and love for the job, was the predecessor to the Glitter Bean we know and love today.
When Smiling Goat folded in mid-April (CTV story) the soon-to-be founders didn't give up. Instead, they continued to support one another through the tumultuous spring and summer, finally opening a café of their own in July of 2018.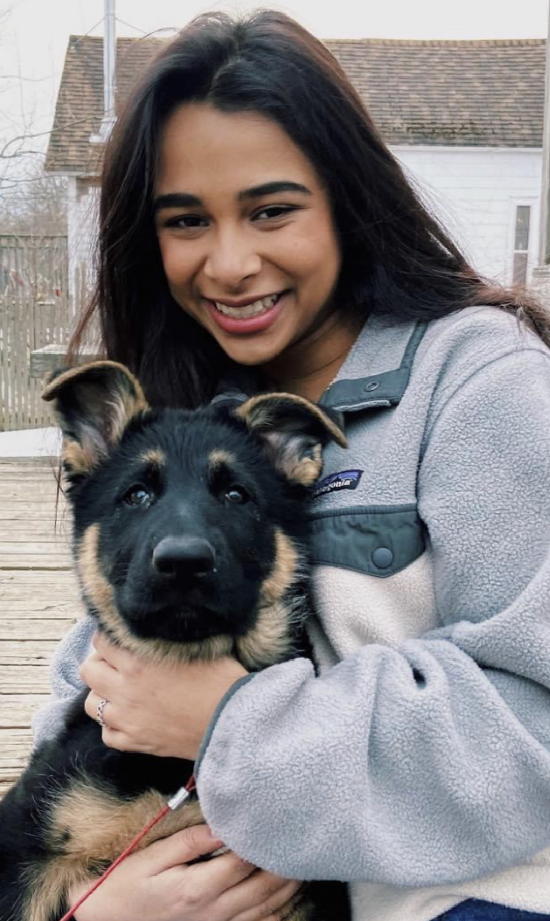 Sitting down with worker-owner Aryeh Majithia, I learned all about the café's philosophy, daily operations, and what's on the horizon for the South End mainstay. One of three Board members, Aryeh has been at the café just over a year and a half.
With a history steeped in labour activism and worker solidarity, it was only fitting for the new space to be run as a worker-owned co-op.
"That means we collectively own the business as a unionized group of about 14. There's no hierarchy in our structure — you're held accountable to the whole group."
An unconventional model, the co-op structure is integral to Glitter Bean's success.
"Genuinely, we all love each other," Aryeh said.
That much is obvious: when you step inside, you'll hear the barista's playful banter over the soft bass of a personal playlist. To find its footing in Halifax, Glitter Bean brought this closeness out from behind the counter, fostering an inclusive environment for patrons.
Glitter Bean, identifying as "explicitly queer, not exclusively queer," prides itself on its commitment to serving the Halifax queer community (though it welcomes anyone in search of a good brew!) For part of its history, Glitter Bean was the only accessible queer-centric space in the city; with that in mind, the café has focused on bridging together LGBTQ+ spaces in Halifax.
Aryeh explains: "it's so important to have a space like Glitter Bean for young people who can't go to bars, or for people who aren't interested in that scene. We have a lot of queer content, like books and things that you wouldn't be able to access in all queer settings."
Nearly every piece of the café is rooted in the local community. 
One example hangs on the café's jewel-toned walls. A variety of original artworks feature contemporary Canadian artists, with an emphasis on queer BIPOC creators. A cash-only sales policy ensures that all proceeds go directly to the artist.
When curating the collection, Aryeh said, "We prioritize queer people of colour, and ensure that their work is a good fit for the space."
Nearly every piece of the café is rooted in the local community. Even the bookshelf, free to read while sipping and snacking, boasts queer and social-justice oriented material; the latest offerings were graciously donated by Barrington Street's Venus Envy.
This focus is intentional — the café exists to support the local queer scene alongside its workers. The solidarity that spurred baristas to become co-op founders never left. It's still seen with accessible options like the "gem" system.
Like a pay-it-forward option, gems offer free food or drinks, no questions asked. "Anyone can buy or request a gem," Aryeh noted, "if you ask for a 'gem drink,' you can get any of our coffee or espresso drinks, and 'food gems' cover anything to eat."
With the business lore covered, let's take a look at the menu! For breakfast, Glitter Bean offers pastries from Tart and Soul accompanied by the Halifax-famous Staff of Life samosas. Its coffee menu is vast — there's a range of roasts from Just Us!, and (duh) a host of espresso drinks. If you're into the sweet stuff, Glitter Bean offers plenty of house-made syrups, including chai, cinnamon, rose, and lavender.
"We're slowly introducing an in-house food menu; right now, it's mostly sandwiches. We've also just added an alcohol menu."
The expanding menu accompanies later hours: 7am – 6pm Monday to Thursday, 7am to 8pm Friday, 10am – 8pm Saturday, and 10am – 6pm Sunday.
Asked if these new hours indicate a venture into nightlife events, Aryeh outlined a host of new offerings.
"We've had poetry readings and trivia nights. Actually, you can rent out the space on a sliding scale basis. Book clubs will rent out a few tables at a time, but you can rent the whole place. It really depends on what you want — there's even a private upstairs room for meetings."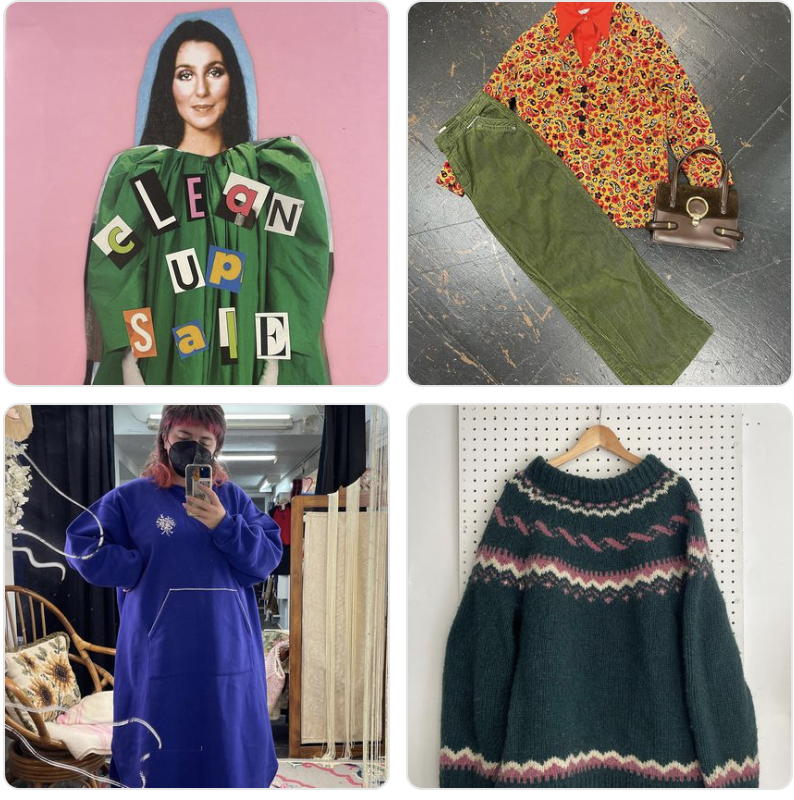 While one upstairs room is dedicated to the café, the rest of the floor belongs to a new neighbour: the HasBin! A consignment clothing store, the HasBin is also queer-owned and operated.
"We're so excited about [the move]. We work really well together," Aryeh added. True to its community-oriented roots, Glitter Bean has supported its fellow tenant. Since settling into the Spring Garden location, the two have collaborated on events including pop-up art markets.
Curious about upcoming events? Check out the Glitter Bean site or stop by the corner of Spring Garden and Carleton St to browse their vast bulletin board in-person.
 
2023 GoFundMe
Glitter Bean writes:
The COVID-19 pandemic was hugely challenging for cafes (and small businesses generally), and we are no exception. We faced major financial losses which brought us to the brink of bankruptcy in May 2022 but we were not prepared to quit. With support from allies in the labour union and co-op movement, we devised and executed a recovery plan that kept us afloat to this point.
Despite our best collective efforts and promising signs of a return to pre-pandemic business levels, we have been running a small monthly deficit and summer is our hardest season. Now, we are faced with essential equipment crapping out, a café space that desperately needs some tender love and care and a workforce that can no longer sustain the pressure on our spirits, labour and pockets alone.
We are humbly turning to you - our beloved patrons, queer community, and friends and allies in co-op, labour and social justice movements - to help keep Glitter Bean alive in this pivotal moment. This space and political project is built and sustained on love and solidarity and we need it now.
How can you help to save the bean?
Make a donation whether big or small. 
You'll get a shout-out on our cute gratitude wall in the cafe 
if you offer your name!Share the fundraiser with your kin, pals, neighbours, colleagues, comrades
Follow us on social media @glitterbeancafe and boost our campaign #savethebean
Send us a love note or words of encouragement (as a comment in the gofundme, as a direct message, handwritten note, whatever!)
Choose Glitter Bean as your go-to spot for coffee, nourishment and event space