The Halifax Pride association has been in disarray for almost a year now. With former Executive Director Adam Reid having left his position last fall and severe communication problems within an ever-changing Board of Directors, the public is still left to wonder what Pride will look like this summer.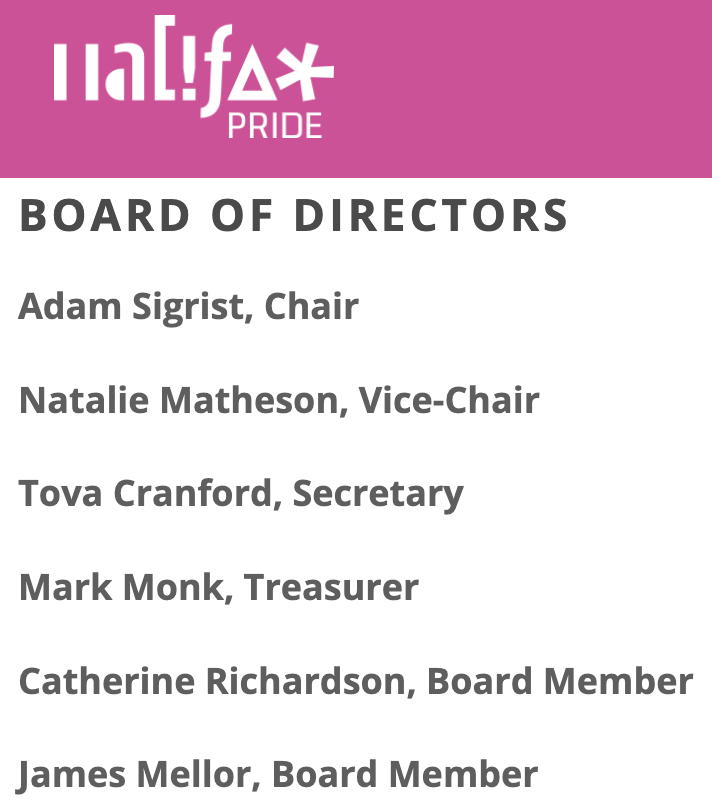 After another special general meeting had been called this past January, much seemed up in the air regarding this year's Halifax Pride. With empty coffers and no Managing Director in sight, it seemed a full-scale festival might again not happen in 2023, even though the pandemic situation would allow for it this summer.
Since the January meeting, little has been heard from the newly elected board regarding plans for this year's Pride. The Halifax Pride website has been updated to show the new board and that the festival is scheduled for July 20-30, 2023, which was announced last September. No festival theme has been announced, and it is unclear if a Pride Parade will take place; the website lists events from previous years. 
Requests to Halifax Pride boardmembers for interviews and comments have gone unanswered. 
The silence is deafening.
Halifax is far from the only city struggling to return from the involuntary pandemic hiatus. Even major European cities like Vienna/Austria have announced that events have been scaled back due to staffing and funding issues.
Halifax Pride is also a member of InterPride, the international association of Pride Organizers and licensing body of WorldPride, which is celebrated every other year in a designated city. This year, the event went to Sydney, Australia, to celebrate the very first World Pride in the southern hemisphere. In February and March, this signature event also marked the 50th Australian Gay Pride, delivering a diverse festival and a remarkable Human Rights Conference. However, while tight finances threaten Prides across the globe, Sydney put the cost on attendees. With ticket prices as high as $200, one of the major takeaways was that activism shouldn't create new boundaries of financial accessibility. Dana Muller, a German lesbian world traveler, had come to Sydney with her partner to participate in WorldPride. "The entry fees to the official program are sky-high. The beach party on Bondi Beach cost $140, and the 'lesbian only' event with Peaches as the main act $125. Not really feasible for queers on a tight budget", she wrote in Germany's largest publication for gay women, L-MAG.
Where does that leave Halifax? Wayves spoke with Kevin Kindred, a long-time Pride member who has followed the Board closely. He points out that the organization's setup might be the cause for many of the current problems. "Pride is very thankless work... It is an environment that will burn out people quickly."
While Pride 2022 had still been a success, the board issues had become pretty intolerable behind the scenes. By Kevin's estimate, "there was an absolute break in leadership, no continuation in institutional knowledge, and a breakdown in access to basic communications like google docs and social media."
Pride should be authentic to the community that they serve. –Kevin Kindred
"However, I think it is reasonable to think that we will have a Pride on a smaller scale. The city could declare the Pride Festival open and raise the Pride flag. That is not labor intensive. They [Halifax Pride] could probably host a few events... and then start to rebuild for 2024."
Without transparent communication, the highly anticipated return of Pride might only disappoint in the end. While the community is eager to reconnect, attend in-person events, and finally march in a Pride parade on the streets of Halifax, a few smaller events organized by LGBTIQ* organizations themselves might be all we'll get this summer. 
It's a shame not only for the local gay community but for how the city presents itself to visitors. Tourism Nova Scotia estimates that it will be the first year the number of tourists will again be at the pre-pandemic level.
Sonya Winterberg also spoke to CBC Radio Information Morning about this story; here's that audio (mp3, 8 minutes.) 
Pending the Halifax Pride schedule going live, organizations have begun posting their events to the Halifax Rainbow Encyclopedia Events Board.
Also, Wayves is publishing links to Pride festival schedules all over Atlantic Canada here.
---
SONYA WINTERBERG is an award-winning writer and documentary filmmaker with roots in Finland and Germany. For most of her career, her work focused on women and children in armed conflict and post-war situations. Her most recent book, "The Wolf Children of the Eastern Front – Alone and Forgotten", came out in January. Sonya is also the editor-in-chief for L-MAG, Germany's largest magazine for queer women.  She lives in Halifax.