A Dalhousie researcher has spent four months cataloging queer spaces in Halifax and has produced a 76 page academic report intended for use by the city, with a big list, recommendations, and maps.
"I am passionate about the work that I did and I would like it to be shared," says researcher Jane Rideout.
"Within the first week of moving here I searched 'gay bars in Halifax' and was incredibly disheartened to find out the only distinctly gay bar in Halifax, Menz & Mollyz, had had to close its doors during the pandemic. I've been living in Halifax for just over a year now, and I have found spaces that I feel comfortable to be myself in. There are lots of queer people in Halifax, and there are spaces in the city that I now know to be inclusive and safe for queer people. However, I still haven't found the queer community I was longing for, and I think part of that is because there are so few dedicated gathering places for queer people. Or maybe the spaces are there, but they are harder to find for new queer people moving to the city."
Queer people have a right to feel included and accepted within the city, but often their needs are not incorporated into urban design or planning practices.
"In my master's program at Dalhousie, I'm studying urban planning. Our job as planners is to make spaces safe, healthy, and enjoyable. Queer people have a right to feel included and accepted within the city, but often their needs are not incorporated into urban design or planning practices."
"When I had the opportunity to do an independent research project for my master's, I wanted to find out if the needs of the queer population in Halifax were being met (which in my experience, they were not) and what the municipality could do (other than paint rainbow sidewalks) to improve queer inclusion. My research has two parts: the first is a literature review of other municipalities worldwide and their policies and programs that support queer inclusion. This provides some insight into the 'best practices' of queer inclusion, which I could then write into a report for the municipality to review and hopefully implement."
This study researched queer-inclusive spaces and opportunities to improve queer inclusion in Halifax, which has a growing queer community. 
Queer individuals deserve to feel safe and included within the urban environment.
Currently, the municipality has no guiding policies or plans to support queer inclusion. This research study sought to understand the spaces that currently exist and how they may be better supported through municipal policy.
An online survey collected the locations of queer-inclusive spaces, the factors that contribute to their inclusivity, the importance of queer-inclusive spaces and the current satisfaction with the number and quality of spaces.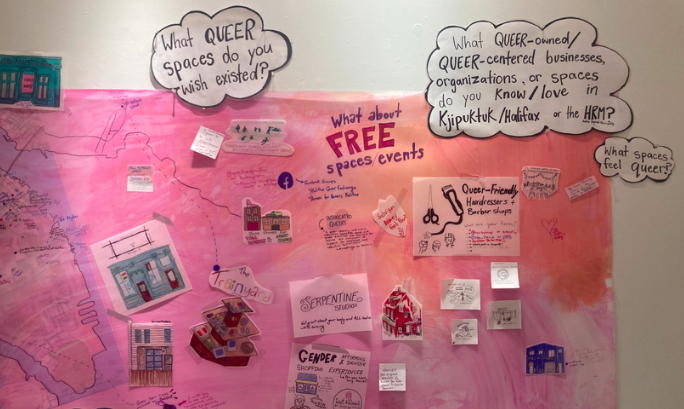 Appendix F contains a list of these spaces, broken down into:
Green Spaces
Bars / Clubs
Restaurants
Recreation
Health
Cafés
Retail
Personal Services
Education
Other
Results show that while there are queer-inclusive spaces in the Halifax Regional Municipality (HRM), they are concentrated on the Halifax Peninsula. A total of 120 individual map points were created through the survey, which corresponds to 65 identified queer-inclusive locations. Respondents are dissatisfied with the number and quality of queer-inclusive spaces, so recommendations for the municipality are to improve its queer inclusion.
As a marginalized and minority group within society, the queer community depends on these spaces to feel safe and accepted within the public sphere. These are places where queer people can feel comfortable expressing their whole, true identities without fear of discrimination or violence and this research offers a starting point to ensure those needs are met in the Halifax Regional Municipality.
HRM has indicated that equity, diversity, and inclusion are priorities in their planning strategies... yet, they have not directly addressed the queer community.
This research study will be used for a series of policy recommendations and ideas for HRM to encourage and support queer inclusion.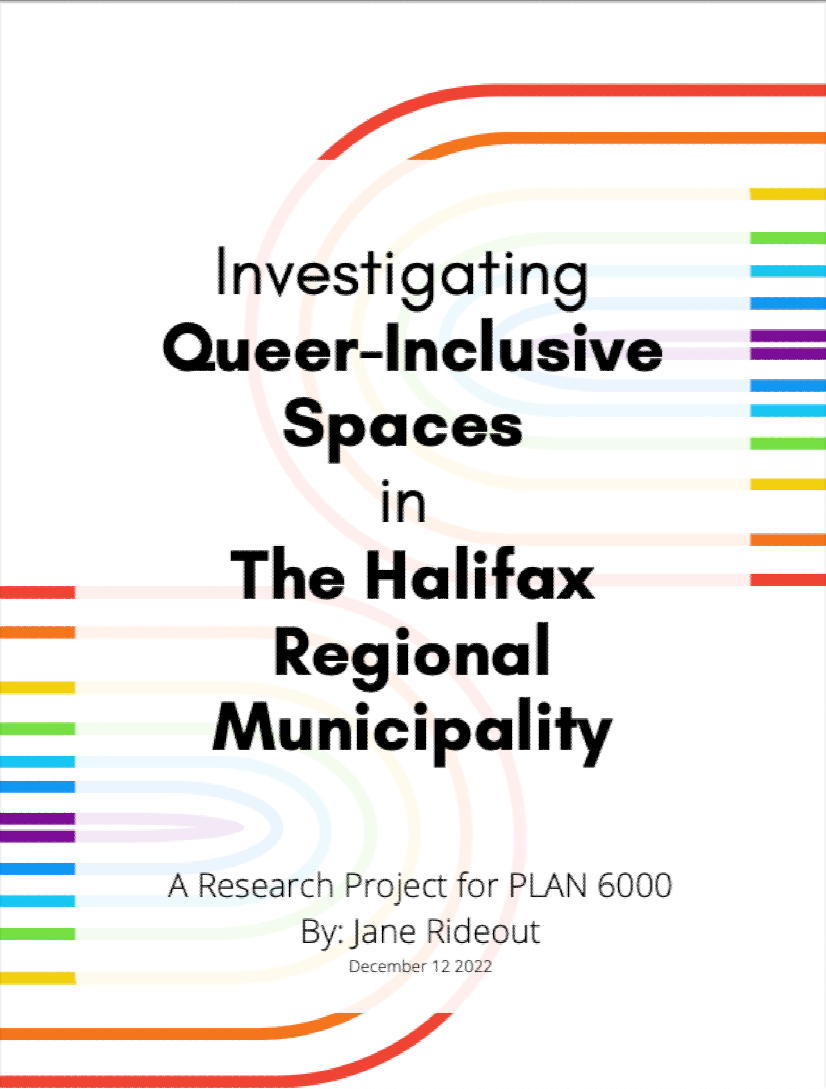 "Queer inclusion is becoming more important for cities to address," says Rideout, "and this work represents the first step for HRM. "
An interactive map of these spaces will be published online at a later date.