Eryn Foster and Sue Johnson are creating a documentary about long-time Halifax very queer multimedia artist and activist Jim MacSwain.
What gave you the idea to tell Jim's story? How long have you been planning this project?
(Sue): Both Eryn and I knew Jim from the Artist-Run-Centre community. I met Jim initially through the Centre for Art Tapes, when I was the Technical Coordinator and he was the Programming Director. We immediately hit it off - we have a lot in common in terms of our experiences in the Maritimes, the communities we frequent, and a similar sense of the absurd as well.
The first time I went to Jim's studio, I knew I had to tell a story about him. But it wasn't until a couple years later when Eryn approached me about collaborating on a film project involving Jim that it really got going. We shoot what in effect was a proof of concept with no money, then used that to apply to production funding from NFB's FAP (Filmmakers Assistance) program and Canada Council for the Arts.
(Eryn): Probably close to eight or nine years ago I kept saying to every filmmaker I knew, someone needs to make a film about Jim MacSwain! At that point I had no experience in documentary or filmmaking (my background is in visual arts) and so I didn't nominate myself initially for the task. However, I thought, this film needs to be made so why not do it myself? But I also knew, to do this well, I needed to work with someone who had some hard skills and documentary experience. I approached Sue because I knew she would be a great collaborator and would also believe in the importance of Jim's story being told.
Where did the title come from?
(Sue and Eryn) Several of Jim's works reference outer space as a theme, and even when they don't, Jim's distinctive voice (which is often used to narrate his work) feels beamed in from some other planet. It's otherworldly. Also the title is a bit of a riff on 'Celestial Sphere.'
Also part of what we're doing with the film is contextualizing this as work by, you guessed it, a queer man. I think a lot of analysis just talks about him as an experimental animator, and sometimes a gay man, both of which is he is of course. Personally my perspective is that Jim's work and personhood also foreshadows many of our contemporary understandings of what it means to be queer in terms of gender and politics specifically. In that respect, I think he was really on the vanguard. Something which will be explored in the film of course.
Jim's work goes back decades; is your intent to illustrate all of it? Or are you focussing on one particular time span?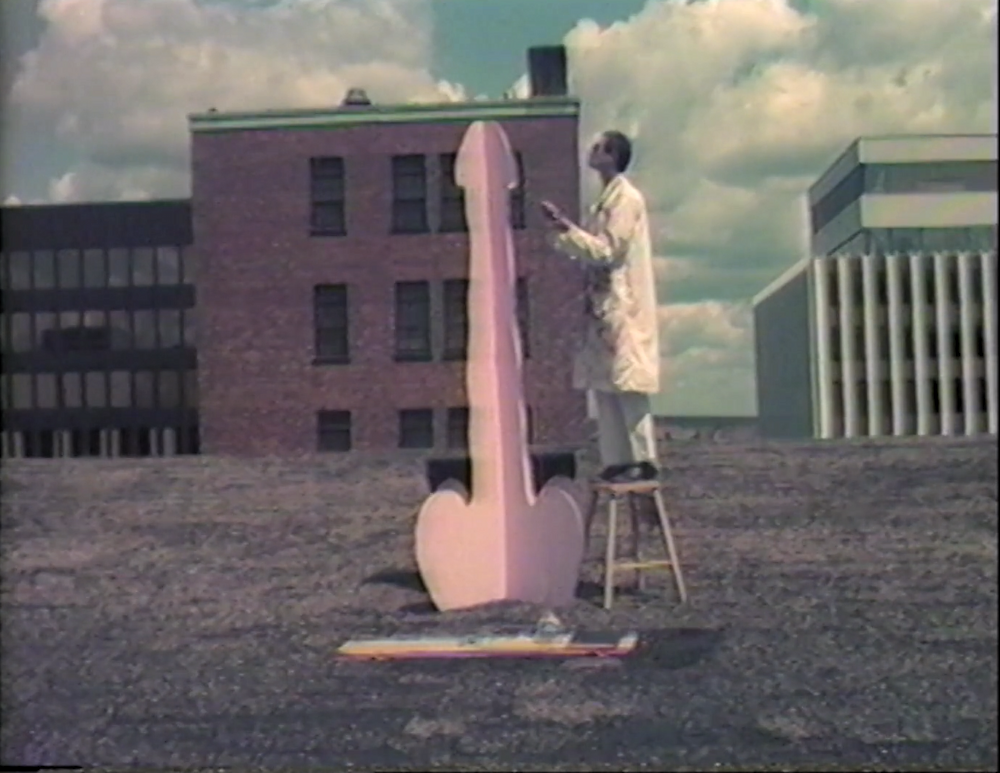 (Sue and Eryn) We are planning to reference as much of Jim's oeuvre as possible, as well as his background as an interdisciplinary artist. Jim has had several retrospectives, but they tend to concentrate on his animation work in 16mm. We'd like to expand the conversation on his work to other pieces, including his performance and activist work as well. In particular, I think people will enjoy seeing films like 'Picnic' (a Super 8 about 5 gay men voyaging into the wilderness outside of Halifax) and the rarely seen documentation of Jim's incredible Phallus performance for the Art by Gay Men show in 1982. His involvement in theatre is important too - he has an amazing one person play called The Bearded Lady's Reflection that he performed both in Halifax and in New York in the late 70's as well. Although it's never been documented, we have the script of course. Staging re-enactments around pieces that lack specific documentation is also a recurring motif in the film as well.
Along the same lines, although Jim has a formidable body of artistic creations, he's also been a teacher, event organizer, and leader.
Several of Jim's works reference outer space as a theme, and even when they don't, his distinctive voice feels beamed in from some other planet. 
Jim contributes in so many ways, and I think his cultural contribution beyond the artworks themselves is central to understanding Jim's impact. He's not just an artist toiling away at some obscure machine, making wonderful animations. His impact on the community has been substantial, and includes acts like starting the Brunswick Street Housing Co-op, which enabled himself and many other artists to have stable housing for their entire lives. So often artists are exalted their 'pure' dedication to their medium at the exclusion of all else. Jim has been involved in so much beyond his own work it's hard to even catalog it all - CFAT, NSCAD, the GAE (Gay Alliance for Equality), AFCOOP, CFMDC..those are just the acronyms I can remember. The list goes on and on and on..then the artwork on top of it. He's prolific in his desire to engage.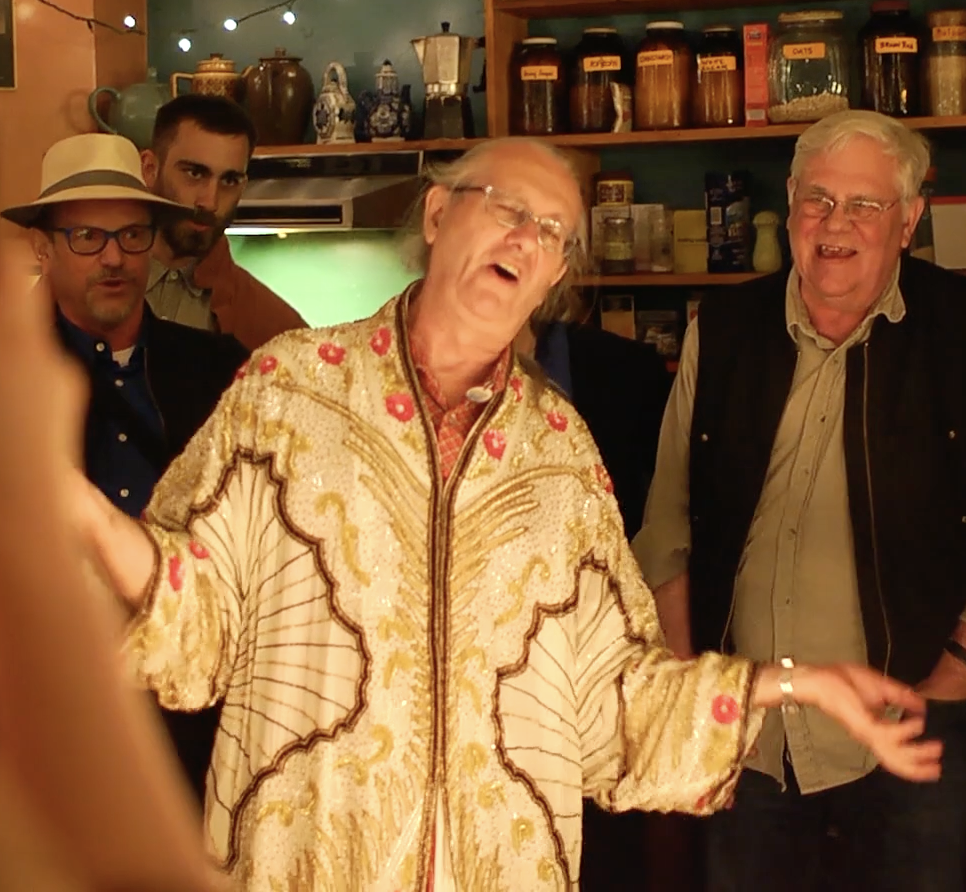 It would be tempting to tell Jim's story in an extremely stylized, allegorical or dramatic way; have you given in to this temptation?
(Sue and Eryn) Jim's work of course has a certain style or stamp to it, but we didn't want to just mimic that. We mostly filmed in fairly neutral participatory / observational mode of filmmaking and highlighted light, colour palette and composition to make subtle connections to Jim's films. In terms of the overall treatment, we've been conscious of creating a film that speaks to Jim's collage sensibility, as well as montage and surrealism. As much as possible, we are working to integrate these ideas into the form, flow and feel of the edit.
There's so much of Jim's work that we have access to, which in some ways it frees the project itself from having to be ultra-stylized. All you have to do is cut to Jim's work for that. Also I think if we had a very heavy aesthetic, it might distract from the one we are trying to show, which is mainly Jim and his day-to-day.
Also did we mention Jim is making some new work for the film? In terms of working style, we try and be collaborative as possible, both between us both (we are co-directing), but even in terms of the involvement with Jim as subject. It's not your typical documentary when you can ask the subject to make a new animation for the film. We planned a lot of the film together - it may reference fly on the wall style, but it's much more collaborative.
Do you have some history of Jim's early years in Amherst?
(Sue and Eryn) Oh yes.. we do a big re-enactment in Amherst - returning there is a central chapter of the film. This is one of Jim's most resonate works and we treat it accordingly. 
In the original film Amherst, Jim revisits his early 'psychic' life, there 20 years after leaving. He films it on Super 8 and adds an eerie voice over that examines small town economics, boredom, homophobia, longing, risk, and the decision to ultimately become an artist. For our documentary, we once again revisit Amherst, this time with Jim in the frame, to get his impressions on many of the same sites almost 30 years later. You could say revisitation is a theme throughout the film in fact.
So - when do we get to see it?
Well, here's a sneak preview! We are getting very close to finishing the film and are aiming for a release, and hopefully premiere in Halifax in the fall of 2023. If you'd like to be notified, "Like" the Facebook page.