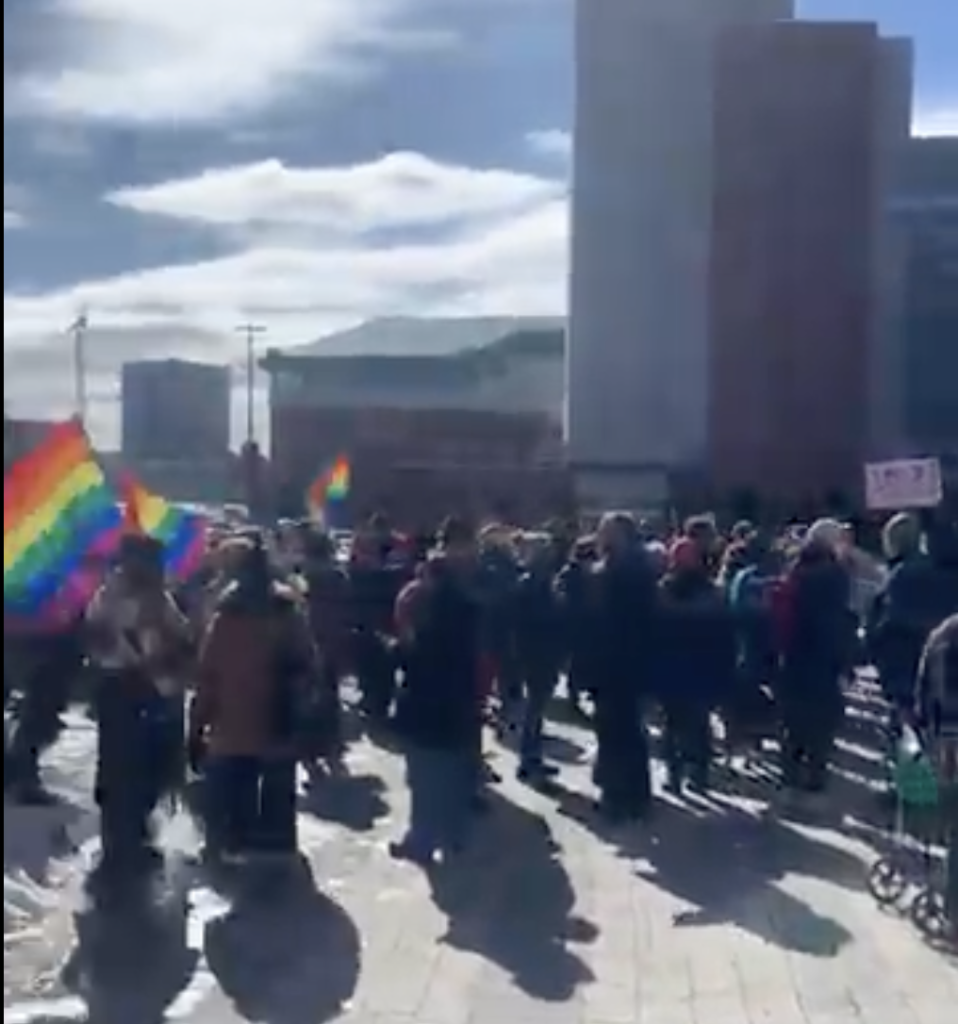 Click the photo to the right for a 10-second video by Richard Blaquiere. Richard says, "Haters 30 or thereabouts, lovers: 150+"
There's a much longer Facebook video from Sarah Jayne Doiron here.
Richard writes: Congratulations to everyone who took the time to confront the forces of ignorance and intolerance yesterday by showing up and shutting the haters down decisively. Bravo. Merci. Woliwon. We 'done' good but these challenges facing our community are far from over. The U.S. is experiencing a significant spike in homophobic and transphobic violence and those numbers are growing in Canada as well. Local performers have received death threats. Vile!
Where was River of Pride in all of this? They should have been the natural organizers of the Counter Protest as befits their mandate but their silence was/is deafening. Defunct? Dormant? Disarray?
Reprinted from CTV News.
2023-03-11 • Moncton • Alana Pickrell, CTV News Video Journalist
When children showed up to the Moncton Library on Saturday afternoon they weren't initially met with their favourite book, but instead dozens and dozens of people.
Two groups of protesters flooded the library entrance in response to the event with two very different messages.
Tommy Des Rosiers was there in support of the event, calling the two performers his friends.
"I don't even know what is the problem with this," he said. "This is just… I've been saying this, I don't know how many times, it's wild. It is wild that we have to be here, that we have to fight for this, there's so many other problems other than someone reading a book to children."
Another group gathered against the event, standing united although outnumbered on Saturday.
"We want to spread awareness," said Jeremy Gibson. "We want to bring this to the parents knowledge. Parents deserve a right to know what their kids are being pushed on in school and the parents deserve a right to know what are on these public library shelves where a three year old can reach it."
He says the group protesting against the drag queen reading is pointing at a bigger issue, and isn't against the pride community.
"I've been supportive of the gay community for a decade," he said. "My aunt is proud gay and she's happily gay and I'm glad to see her happy, but when you're going over the parents heads and this stuff is being flooded into our schools, it's being flooded into the curriculum labelled as SOGI123 and CRT and parents are unaware of this and parents that are asking these questions are being silenced and that is not right."
For the most part the duel protests remained peaceful with just a few words shared between the two groups. Around 30 people were calling out concern with around 100 shouting support.
"We don't even have to teach them about inclusivity or what is gay or queer or whatever, it's just being exposed to different things in life is not a bad thing, it never has been, never will," said Des Rosiers.
Meantime, a similar story in Halifax on Saturday as well.
"Derogatory words were used," explained Drag Artist, Mya Foxx. "We were called child abusers, you know sexual deviants you name it. There was a number of different things bordering on hate speech."
Uproar on social media this week forced police to standby during a fundraising event that featured drag artists face painting and book reading for children.
"So the types of things that you may see at midnight on a Saturday night in a club for an adult audience is completely different from a drag performance or a drag queen story time that is catered towards children," said Foxx.
Both the event in Moncton and Halifax garnered a lot of social media attention leading up to the events on Saturday both filled with hate and support.
Although there was a small police presence in both cities, the events took place without incident.