This is a new weekly column for short Q Atlantic Canadian news items that we can't do articles about.  If you have any additions, email us!
New Brunswick
Lynn Bourque-Chevarie is proposing a Riverview Pride!  "I've been in the process of looking into the steps to get a non-profit Pride committee for Riverview started. River of Pride and Fierté Dieppe have proven that communities truly benefit from these organisations and I think it's time for Riverview to do so as well! Contact her via FB or at lynnSbourque@gmail.com.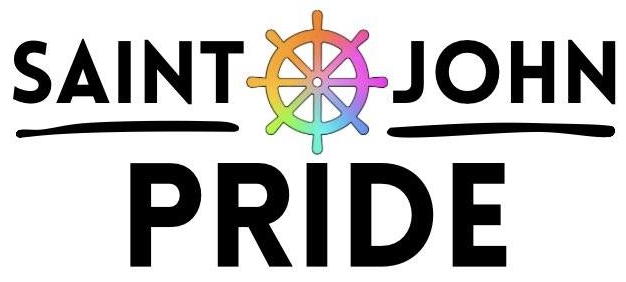 Saint John Pride says: After careful consideration and thoughtful deliberation, we have decided to rebrand SJ Pride's Logo. Our logo is more than just a symbol; it represents our values, aspirations, and commitment to our community. By updating our logo, we aim to embrace the spirit of progress, innovation, and forward-thinking that define our collective vision for the future. We are proud to call this region home, and we are committed to actively contributing to its progress and inclusivity.  Like a nautical ship wheel, unity and collaboration steer the community in a direction guided by goodwill and shared purpose. 
Here's a list of Pride festivals in Atlantic Canada.
Nova Scotia
Hundreds of supporters showed up to support the Kentville Drag Me To Family Dinner event, taunting twelve protesters. Kevin Dadouses wrote about it.
Ashley Cyr of Valley Pride talks to CBC Radio about security concerns and their experiences at last weekend's Drag Me To Family Dinner.
Halifax
There are a whole bunch of events on Pride Parade Day, July 23rd including... another march in another place!  The whole slate is on the Halifax Rainbow Encyclopedia LocalEvents.
The Aids Coalition of NS is calling for volunteers. "We have tons of events coming up, and we'd love you to get involved! From drag shows to dances, fundraisers to auctions, we've got big things on the horizon! Reach out to me at fund@acns.ns.ca to express interest!"
"ACNS is overdue for a refresh" says the Aids Coalition of NS. "We are looking for community input about how else we can serve health needs of the Q community. ACNS is proposing to expand our mission to address the broader sexual health, mental health and substance use issues within the 2SLGBTQIA+ Nova Scotians, all the while continuing to address HIV issues for ALL Nova Scotians."
 "We'd like to get feedback from the 2SLGBTQIA+ community. We will be holding consultations by Zoom and invite you to join us on: Tuesday, June 13th @ 6PM or Wednesday, June 21st @ 6PM. To register, or for more information, email ED@acns.ns.ca. Alternately you may call 902-425-4882, ext 227. Please leave your name and number. You can also find out more here. 
Workspace Bedford has declared themselves Q Friendly: "Workspace Bedford is the perfect place for LGBTQ+ individuals seeking an inclusive and supportive coworking environment. With an affordable hourly rate of just $8, you can study, work on projects, and have team meetings without breaking the bank. Enjoy free unlimited coffee and iced coffee to fuel your productivity while connecting with a diverse community of like-minded individuals." On Facebook Marketplace.  

Halifax Night Spa (former Seadogs Sauna location) has announced "Masc" nights - men only.  Events can be found marked with this symbol on Gay Halifax LocalEvents.
Indulge Nightclub on Gottingen has announced that they will be closed June 25 - July 20. A somewhat incoherent rant from Tumblr account @thetruthaboutindulge suggests that the business has been shut down for a variety of code violations and nonpayment of bills.
A queer convoy organizer said: "Hey hey! It was a fun time. We had a convoy of queer folx in cars around Sullivans Pond, then some organizing at Dartmouth Commons." 
Sports
For particulars on each of these, look for the icon (below) in LocalEvents. Here's sports news:
Queer Climbs Hfx Meets on the second Friday of every month at Seven Bays Bouldering in Chain Lake. Creating accessible and safe(r) spaces for queer (2SLGBTQIA+) climbers of all levels. 
Pride Rugby has been rebooted for 2023. Here's the article about it.
New: Halifax Rainbow Dodgeball.
New: motorcycling group, Rainbow Moto Hfx, an inclusive and queer motorcycle community. Come alone or bring a friend. 
Halifax Rainbow Softball has started up