This is a regular column for Q Atlantic Canadian news items that we can't do full articles about. If you hear of any Q happenings that deserve a little or a lot of light shone on them, email us!
Canada
The NHL, NHL Players Association, and NHL Player Inclusion Coalition have agreed that players may use pride tape at games and practices.
Scotiabank has shown support by giving away pride tape at the Clayton Park, Halifax and Avalon Mall, St John's branches.
New research report: Healthcare access experiences and needs among LBQ women, trans, and nonbinary people in Canada. The aim of the project was to learn more about healthcare access experiences among women, trans, and nonbinary people who are lesbian, bi+, or queer (LBQ).  Link here.
Prince Edward Island
 No news is not good news!  Send in the dirt, good or bad! How to is at the bottom of this article.
Newfoundland & Labrador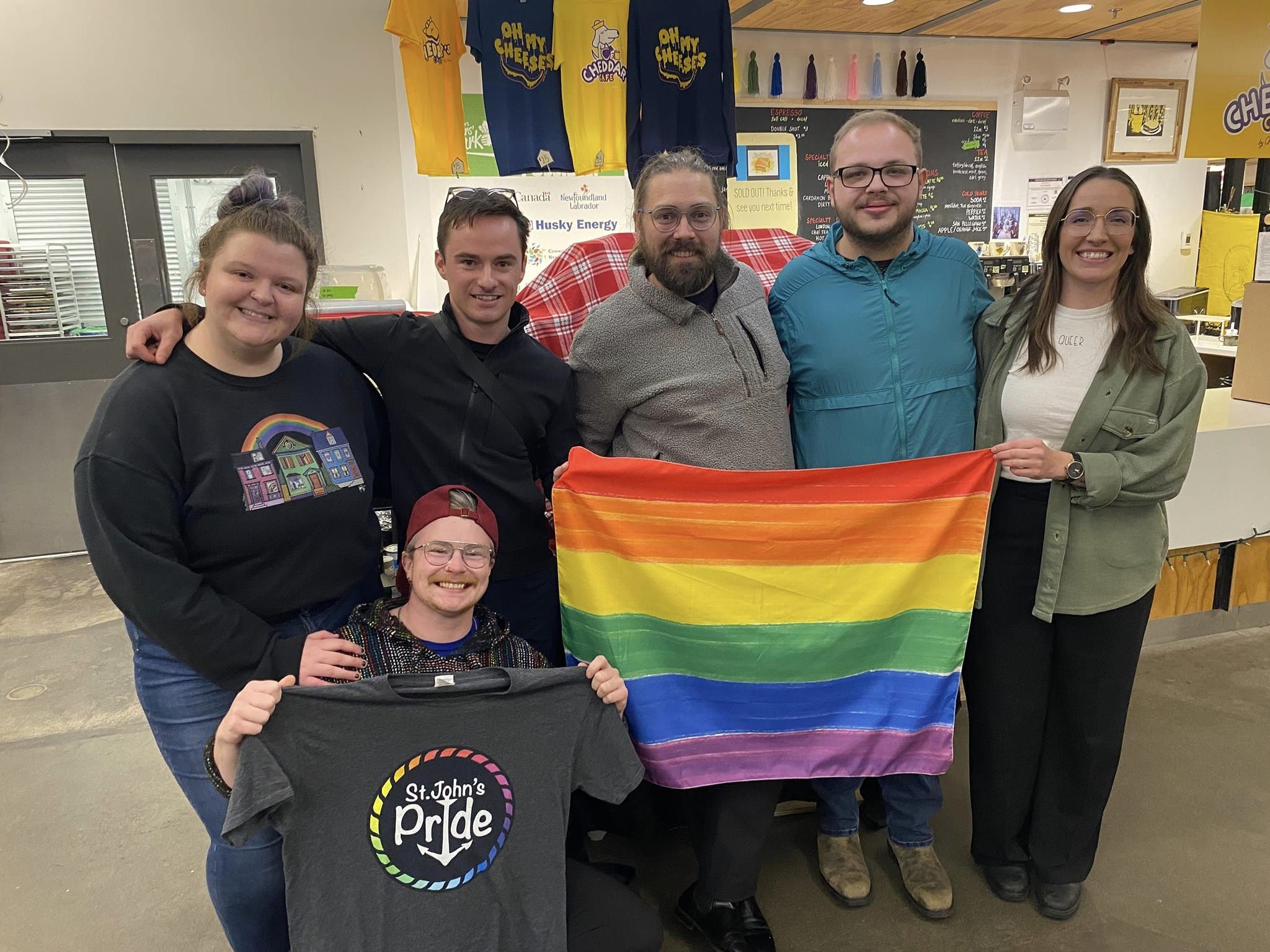 St. John's Pride had a General Meeting on October 16th and elected: Co-Chair, Internal: Scott Lester; Co-Chair, Finance: Danielle Babstock; Director-at-Large: Jenna Slaney. Three positions are still vacant.
Queer Crafting Club in Grand Falls-Windsor: This is a safe space for community members to get together and work on projects. The sky is the limit to what you can bring to work on - painting, drawing, knitting, crochet, poetry, whatever you are working on! And if you're not working on anything and you just want to be around like minded friends you are more then welcome as well. Thursdays 6:30 - 7:30pm at the Harmsworth Public Library.
 
New Brunswick
The Canadian Civil Liberties Association has created a petition to rescind the revisions to Policy 713: "Join CCLA in calling upon the New Brunswick Minister of Education and Early Childhood Development to immediately rescind the harmful revisions to Policy 713." You can sign it here.
Pivot is a 2SLGBTQ+ sexual/reproductive health leadership program in Fredericton. "Come learn about sexual and reproductive health topics and create your own project that responds to a sexual/reproductive health challenge faced in your community!" There's free food and local bus fare, and everyone who completes the program gets a $50 honorarium. For more information and to sign up, go to HSHC.ca/Pivot. If you have any questions, email the project coordinator Abbie (she/her) at abigail@hshc.ca .
Halifax
Those and a hundred other very queer things to do are up on the Halifax Rainbow Encyclopedia Events (H•R•E) board. If you're planning an event, there are instructions for adding it. Here are some new & unusual events:
The Halifax Mussels are seeking fans, volunteers and supporters for hockey games and practices which are free to attend as spectators. Email them to get on the notification list.
Freeman's Little New York on Quinpool has started LGBTQ+ Friends Mix It Up Monday. "We are extending a warm welcome to the LGBTQ+ friends + allies. Join us every Monday from 5-8 pm to kick off your work week in style."
For Halifax Pride 2023, he H•R•E was the calendar for the community-led grass-roots festival; the total count is 271 events in June & July. That calendar has been archived here for posterity, and is linked off the big Halifax Pride history page, here.
Rest of Nova Scotia
ACNS needs knitters for its Red Scarf fund raiser! Details here.
Pride flag torn down "with enough force to bend the flag pole" in Pictou County. CBC story here.
Lisa Lachance, MLA Halifax Citadel-Sable Island introduced a LGBTQI+ Bill of Rights in the legislature mid-October. The bill calls on the government to reaffirm Charter rights of 2SLGBTQIA+ Nova Scotians by establish a working group to address 2SLGBTQIA+ health inequities, including gender-affirming care, training for health care providers, funding for community organizations, and by establishing a 2SLGBTQIA+ Equity Directorate to be overseen by a dedicated minister and to consult with community regularly regarding new legislation or policy development, as well as develop ongoing strategies to improve equity and report on progress in areas including housing, education, employment, government services, and the justice system. 
"It's unlikely to be debated this session," says Lachance, "but more exciting is: all 3 parties spoke in support of queer and trans young people. It's on the record; it would be hard to go the direction of NB or SK after this."
Annual General Meeting -- a chance to get involved for Lunenburg Pride on November 3rd, 1pm - 3pm. RSVP to lunenburgpride@gmail.com for the location.
---
Do you have some Q Atlantic news, big or small? Email Wayves with the particulars!
You can always see the last 9 days of Wayves articles via the digest page.