UPDATED! June 20-29, MUST SEE! OUTeast & Khyber Arts Present: I have come to ask you to tell me everything you know about the night
Posted by Wayves Volunteer 18/06/2013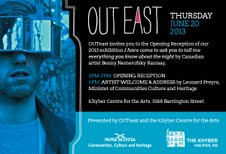 OUTeast Film Festival and the Khyber Centre for the Arts present: I have come to ask you to tell me everything you know about the night
6pm; Artist' Tour Saturday, June 22, 1:30pm, Turret Room, The Khyber Centre for the Arts
UPDATE: Canadian Art magazine online has just listed I have come to ask you to tell me everything you know about the night as a Must See exhibition in the Atlantic region"
"Montreal-born artist Benny Nemerofsky Ramsay debuts new works commissioned by Halifax's OUTeast queer film festival June 20 from 5 to 7 p.m. at the Khyber Centre for the Arts. For the two new works—Night Bird and Nightwood—Ramsay has transformed spaces in the Khyber building like its turret room, drawing on the building's multifarious history which has included a turn as the city's first gay social club."
I have come to ask you everything you know about the night engages the diverse and storied history of the building which now houses the Khyber Centre for the Arts. Presented by OUTeast and the Khyber Centre for the Arts, the exhibition focuses on the third floor Turret Room, the former site of one of Halifax's first gay bars. Works in video, textile, print and sound will reactivate the history of the room in Benny Nemerofsky Ramsay's first solo exhibition in Atlantic Canada.
Generations of queer knowledge are invoked in Legacy (2010, video for unique screen), which features a mirror-masked flâneur, cruising an enchanted forest. A quartet of oracles impart forgotten wisdom to the wanderer through song, invoking the words and voices of gay elders including essayist Quentin Crisp, pop icon Jimmy Somerville and founding Radical Faerie Harry Hay.
The magical atmosphere of Legacy is enhanced by two new works commissioned for this exhibition by OUTeast. Borrowing sonic strategies from Louise Lawler's iconic feminist sound piece Bird Calls, Night Bird (2013, sound installation, paper ephemera) laments the names of artists and queers lost or out of reach, whether to AIDS, violence or art world celebrity. The names are sung by the artist, mimicking the calls of nocturnal birds.
Nightwood (2013, mixed media sculpture) reenvisions the history and energy of the Khyber's Turret Room. A shimmering, oversized veil - at once curtain and carpet - will enshroud a section of the gallery. The movement of gallery visitors will transport traces of the sculpture - and thus the history of the space - beyond the borders of the room, out into the streets, perhaps infinitely.
About the Artist: Benny Nemerofsky Ramsay is a Montréal-born artist and diarist. His work in video, sound, and text contemplates the history of song, the rendering of love and emotion into language, and magical invocations of voices – sung, spoken or screamed. Nemerofsky's work has been exhibited across Canada, Europe and South East Asia, and has won awards in media art festivals in Canada, Germany, Poland, and Portugal. His work appears in numerous private collections as well as the collection of the National Gallery of Canada and the Kunsthistorisches Museum Vienna. You can find out more about his work here.