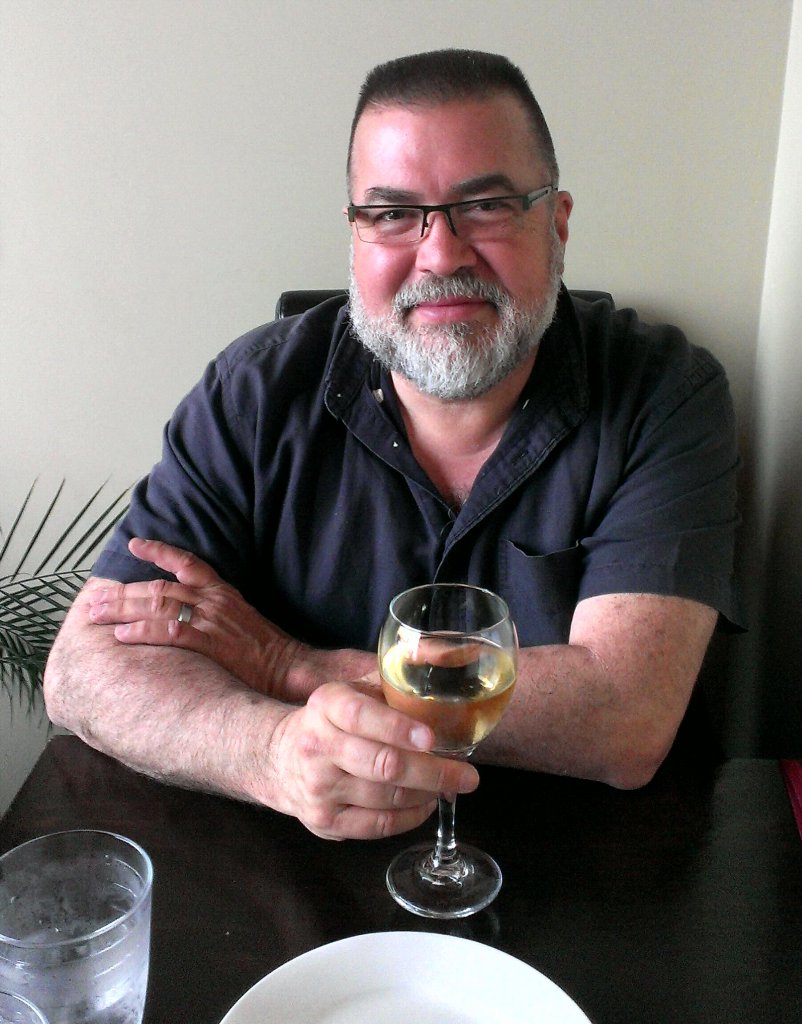 By Jane Kansas
June, 2014
Doug Melanson is comfy on the big sectional couch in his Fairview living room. He's in a black T-shirt and jeans, and lovely two-tone sneakers. His trimmed beard frames a square face with pink cheeks that will look like Santa cheeks in a few years, but for now only the beard is grey; his eyebrows and hair are a rich black.
He's a great storyteller, and the stories he is telling just now are about coming to Halifax on May 30, 2002. "When I got here," he says, "I didn't know a soul. I ended up at Toolbox and Club NRG." Already back then, twelve years ago, he had a plan that involved him leaving Halifax on May 30, 2014. He and his husband, Glenn Baker, plus Mikey, a fun shih tzu, are due to climb into a big-ass Ford 150 and trailer and take off on May 27, but with one thing and another, including packing up, nobody will be surprised if they end up leaving three days later.
Both of his businesses, Seadogs and Menz Bar, sold on April 30th. The years of running two very successful businesses don't seem to have taken too much of a toll on Melanson, but he's got other reasons to be setting off on a new adventure. He's fifty-two now. He's been diagnosed with Type 2 diabetes. Five years ago, almost to the day, he started chemotherapy for Follicular Lymphoma. That round was tough, he says, "what with running two businesses and everything else that I do." He's due to start a new round. "It's six months of chemo," he says, "and I thought, 'I just can't do this anymore. I need to stop and take care of me.' I could pretend I could keep on doing this, working seven days a week, and just end up dead one day or I could say, 'Honey, let's call it quits here and go to Victoria'." Melanson decided to put it out to the universe and see what came back. What came back was a good job offer for Glenn, in Vancouver. Things started to fall into place. "We had someone interested in buying the bar. A bath house chain was interested in Seadogs. Everything started to flow in the right direction."
"The kids are out west; the weather's better there," he says of choosing British Colombia. "The plan is to spend one year in Vancouver and see how it is. We'll make a decision in a year."
Melanson is planning to open a business there, but not a bar. Rather, a staging and redesign business. He has not yet packed up all of the house because he has an Open House coming up in a few days. The house is immaculate, and it does look wonderfully staged, elegant yet minimalist, to be as appealing as possible to potential buyers. Was it always like this? Melanson is laughing. "This wall," he says, pointing behind him, "had more than 100 paintings," he says. "I've had three garage sales. I made $21,000." Melanson bursts into gleeful laughter.
When Melanson came to Halifax 12 years ago he had never been here before. "I walked along the boardwalk and absolutely every single person I met smiled and said good morning, I felt so good. I thought, 'OMG this is a wonderful place.'"
"I didn't know a soul. I tried to figure my around the city and find the gay community. I knew there was a club called NRG and I knew there was a club called Toolbox. I wanted to work in the gay community, to have a gay oriented business and be part of something bigger than myself. It was a little frustrating. I remember going into Club NRG and seeing 200 people in this dark, dingy, sweaty basement and thinking to myself, 'what is going on? Why are these people in a basement? Hiding in a bloody basement? There was barely a sign on the door. It really bothered me.'" Melanson opened Seadogs.
"I wasn't satisfied with running just Seadogs and got my nose into Toolbox. We went in and changed it. And then we had a bar. Menz Bar. And back then the target market was blue collar men over thirty. Then we took over the third floor." That wasn't enough so Melanson created the restaurant called Mollyz.
Melanson is passionate about the gay community. "My belief in this community is number one: it is a community. This is an LGTBQTI community. Our community. For me, being part of the community means support. As a business person that means that I have to be available to everybody: the youth, the owls, the trans community, the drag queens, drag kings, the leather community, the bears – everybody. I do not do business with anybody who isn't gay positive or doesn't have gay people on staff. I refuse. And the youth project and other youth groups - they're too young to come to the bar. But you know what? If they see me, as a business person, openly gay, doing my business, reaching out to support them, hopefully they're going to go on their career paths and do the same."
Melanson is slipping away out of town without a big party. It would be too hard on his heart. "Too emotional for me," he says, "I'd be bawling my eyes out."