Pain & Trauma & Art Therapy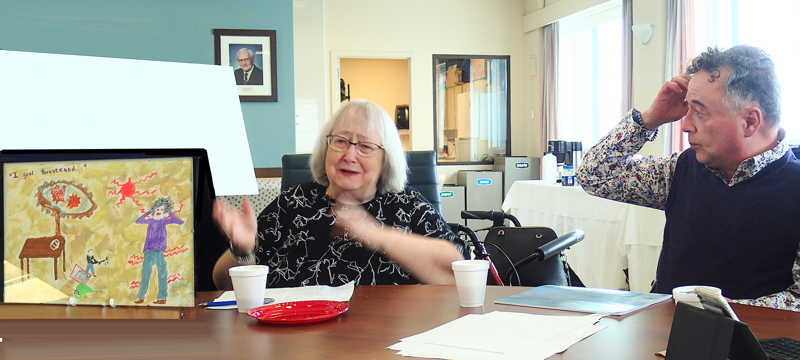 Lynn Murphy and Don Stevens illustrate art therapy and its life changing effects  
HALIFAX • 2018-04-18 • Dan MacKay
On April 8, Atlantic Canada's LGBT Elders group, the Elderberries, invited Don Stevens and Lynn Murphy to tell them about Art Therapy.  Lynn brought a number of paintings.
Lynn: At first, art therapy may not look like it's related to the Elderberries community. But art therapy can help us with some of the common experiences of aging - the gradual or sudden loss of physical ability, pain, emotional loss due to bereavement, etc. But art is something that many of us haven't been involved with - for a variety of reasons. Maybe we think we have no artistic ability.  Maybe we are afraid of revealing ourselves. But through art therapy we find that we don't need to be great at art in order to express ourselves. I've benefited a lot from this, and I wanted to share it with you.
I'd like to introduce Don Stevens who was the art volunteer at the Queen Elizabeth II Hospital who introduced me to art therapy.
Don Stevens
I started out as a teacher many years ago, which brought home the importance of art to me. In the '70s, getting a teaching job in Halifax was nigh impossible.  One day at an art class at a school on the South Shore, one of my students who always felt that he could do nothing right, said, "Mr Stevens, I didn't know how great I could be until I was in your class."  He thought he was great there, and that spread to him feeling like he could be great anywhere.
After that, I integrated art into every subject that I taught.  Many years later, I felt I wanted to share the power of art with others, so I developed the "Artplus" program for people involved with the AIDS Coalition of Nova Scotia.  The group was open to anyone affected by HIV/AIDS. People were able to express their emotions in a way that they might not be able to do in words, and could talk about their issues in the context of the art.  Later I found a place with Cancer Care and the QEII Pain Management Clinic. 
Art Therapy should be directed by a trained Art Therapist.  The person who does this has to have a lot of empathy - which possibly can't be taught. You need to "know your own darkness" to feel that of others.  
Art Therapy isn't going to take away pain, and it's not going to cure cancer, but it can help you develop coping strategies. People often commented that they felt more comfortable expressing themselves through art around others "in the same boat."
What isn't art therapy? Art therapy doesn't mean art lessons.  You may learn a thing or two about colour and perspective, but you won't turn into Bob Ross.  And, even if you feel like you can't do art, you can still benefit from art therapy. It also isn't crafts to keep you busy - no macaroni soldiers (unless you want to make macaroni soldiers).
To do this in groups, you have to have a safe, positive environment. Participants have to feel that they can talk about their pain.  But maybe not, for example, some particularly intense emotional or physical trauma. Sometimes memories like this surface, but are too much to handle within the group. You share as much as you want to share. 
Ideally, groups should be kept small. Any more than seven or eight people may be too many. Typically oil paint is not used, but many other materials may be employed. I use everything else, mostly tempera paint- mixes with water - or acrylics. You can get some really good materials at the Dollar Store — except for the brushes. You probably want to invest in some nice brushes.
And, rituals, that is, meditation before your art, centering, etc: perform rituals if they work for you, don't if they don't.
One technique is called the Directive Approach I give a directive on theme or topic and we all work on the same idea together. Or, we do quotations, for example, "Remember that everyone you meet is afraid of something, loves something, and has lost something." — H. Jackson.   You can see that you could do three drawings or a triptych around that quote, depicting love, loss, and fear.
Sometimes we focus on particular materials, e.g. clay, or masks.  Think about having the outside of the mask representing your outside person, and the inside of the mask representing your inside feelings.  You could also do this with a dollar store box. But even in those situations, if a member of the group wants to do something different, they can; the directive is just a useful place to get someone going.  There are many ways to motivate participants to get started.
Obviously, there is a measure of trust involved - trusting the art therapist and trusting the process.
What are some of the benefits of art therapy?  It encourages relief from overwhelming emotions. The sense of having overcome anxiety about doing the art is also itself therapeutic. You'll discover insights about yourself — sometimes long after you've made the piece of art. 
Lynn Murphy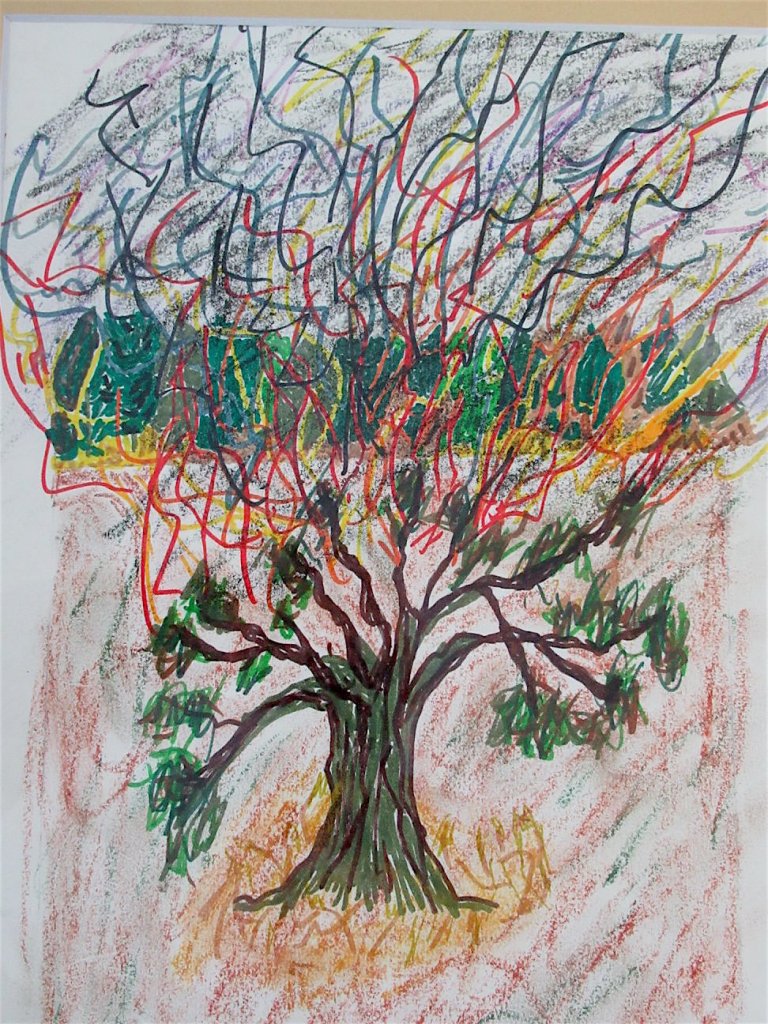 The Old Tree Struck By Lightening
At my first session, there was just one other person signed up, so I thought I'd get some individual attention.  I soon discovered that art therapy was not about doing fine paintings, but about expression.  Don asked me to bring to today's session the painting of the old tree struck by lightning because, when I first painted it, I had made an analogy between that, and the way I was "struck" by a stroke. which destroyed my life as I knew it, and caused a lot of changes.  Not all of them bad. Click on the thumbnail to see a larger version.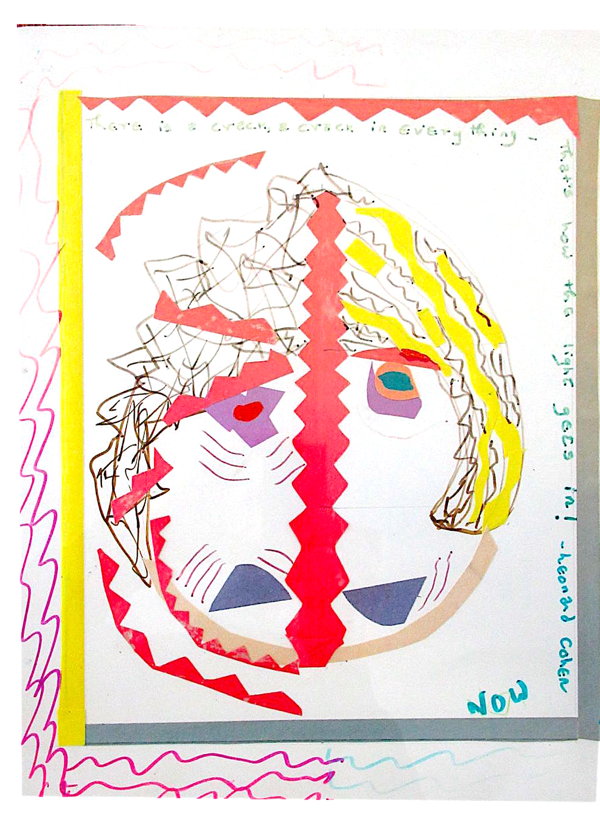 There Is A Crack In Everything
The piece expresses my life before and after the stroke, and how I'm different - it cracked my life open. The collage is kind of "crazed," a play on words meaning having a cracked survace, and also expressing my emotions. It's made out of pieces of paper that were glued onto a larger piece of paper. There is hardly any brush work - only a little magic marker.  The collage format was a change from the markers which I mostly used at that time. Later on I got into acrylic, a paint, and pastel, a kind of crayon.
Kitchen And Easy Chair
Again this is a two part piece which illustrates the before-and-after of working in the kitchen.
Don: "While studying Art Therapy, I discussed this painting with my supervisor (after getting permission from the student, of course) who suggested that my thesis would be about resilience.  My students would come to the classes, in rain or shine, in pain or not in pain."
 
I Feel Threatened
Lynn: Two of my pain triggers are cold and sudden loud noises.  In my building, there are frequent fire false alarms which trigger my pain in several different ways.  In this painting, on the left, there's a table with a cloud full of monsters. I don't remember now what that meant. It may refer to my walnut allergy. There are people shooting guns, relating to violence in the media, which is threatening.  I'm afraid that if there really is a fire, I will not be rescued. Also, I am afraid that my post-stroke disability is going to get worse and worse and I will have to go to a nursing home.  So the painting is full of expressions of actual fears. 
At The Canada Games Pool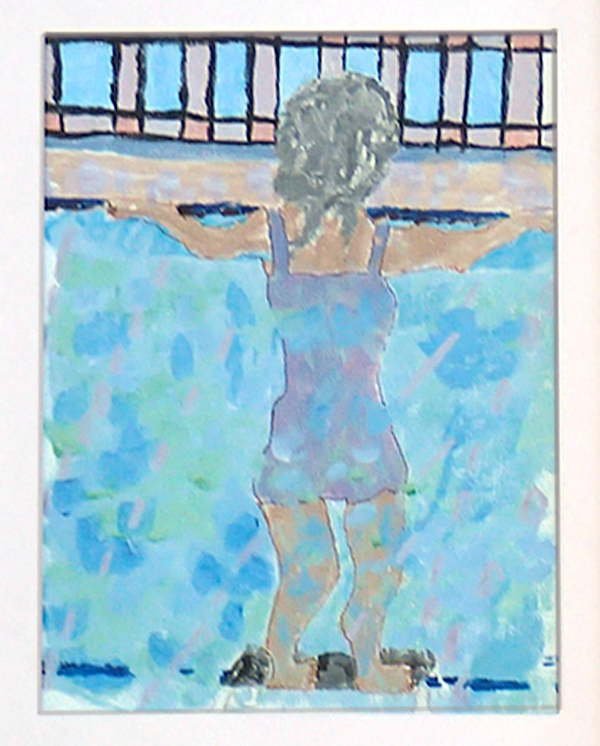 I began to feel constricted by painting about pain all the time.  I had other things in my life such as Ai Chi - an exercise like tai chi but done in the water.  This picture is at the Canada Games Pool, but I also do Ai Chi in my building's pool, which helps to rebuild my health through exercise. In this piece I'm working less in a cartoon style and more thinking about how it looks as a painting.
Dancing To Make The Baby Smile
This painting is from a memory in PEI, when my sister was still a baby and she'd start to cry, I'd distract her by doing the highland fling, which is quite bouncy and has arm movements and music. In this painting I'm thinking about my life in the long term - as a child or as a teenager. My sister and I are close; we talk on the phone every day.  I have done forty or fifty memory pieces about growing up in PEI.
 
At The Greenhouse
This one is about Bill Romkey taking me out to the Farmer Clem's greenhouse in Bedford, buying herbs for my balcony.  The plants you see in this picture are by and large unknown to science.  This is also about a new activity in life after the stroke.
Rainbow Haven
Since my stroke, I have missed being able to wade in the salt water due to beaches being inaccessible. Why would this be important?  Well, I grew up on an island, and used to go to the beach there. One day, a couple of friends helped me get to Rainbow Haven, walker and all, and they took pictures.  This painting is based on one of those. I think including the walker in a painting shows increasing acceptance of my new life and its limitations, but also the positive aspects such as becoming a painter.
Eventually the first  QEII art group members were moved along so that others could take advantage of Don's sessions.  But a few of us decided we wanted to continue doing art together. We finally decided to meet in the common room in my apartment building which has space for about six people, and has a sink, but there's no place to store supplies or works-in-progress, and parking is very limited.  We also have a very valuable volunteer, Jennifer, who washes brushes, lays out drop cloths etc.
One of the nice things about painting is that you can create gifts. I am very thankful for the additions to my life that have come out of Don's original therapy project.
The Elderberries is the association of LGBT Seniors for Atlantic Canada.  All over 60 and friends are welcome.  To be put on their mailing list, email elderberries.scotia2@gmail.com.