Courage Roundup for LGBT Alcoholics, Addicts & Friends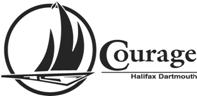 Halifax • 2018-04-30
The first weekend of August will see the 30th annual gathering of recovering LGBT alcoholics, addicts, and friends. Organizer Dale C says, "If your life has been affected by alcohol or other drugs, and you want to make a change, you're welcome to attend."
The event, entitled "The Courage Roundup," will be held on August 10, 11 & 12 2018 (Friday – Sunday) in the south end of Halifax.  Although the event is sponsored by gay men and lesbians in Alcoholics Anonymous, all recovering alcoholics and addicts, all those who wish to recover, and their friends are welcome.  You don't have to know anyone to attend; just show up. If you feel shy, contact the organizers and they'll put you in contact with someone to hang around with until you're comfortable.
"Let's Keep It Simple" is this year's theme, and the weekend includes sessions with guest speakers and workshop discussions of recovery topics in a very relaxed and peaceful setting in south-end Halifax, plus a lot of "fellowship" that is, just sitting around and talking about life and doing it better.
This gathering is the only one for the LGBT* community east of Montreal.
Things officially start at 6:00 on Friday, August 5th, at the Universalist Unitarian Church at 5500 Inglis St. It's OK to be late, and it's OK to show up on Saturday from 9:00am until about 4:00pm and take in what you can.
Registration is $25 which includes lunch on Saturday, but no one will be turned away for lack of funds.  The organizers have arranged a private supper at a nearby restaurant on Saturday for $14.50.
To see the schedule, or to arrange a buddy to attend with, or for other questions, visit the website,  http://courageroundup.ca/ email courage449@yahoocom, or call Dale C at 902-452-1986.