I saw an announcement that Bridgwater United Church was about to celebrate becoming an Affirming Church. As a teen, I lived near Bridgewater and went to senior high school there, so I headed south early on Sunday morning.
Open and Affirming is an official designation in the United Church asserting the full inclusion of gays, lesbians, bisexuals and transgender persons in the church's life and ministry. Many United churches are Affirming but it's always a thoughtful and sometimes protracted and divisive journey, and a bit of a risk, for a congregation, so the finalization of it is a special event.
Bridgewater United's service starts at 10:30, but there's social time before; I got there at 10:00, wearing my "Does this sweater make me look gay?" garb (photo below.)
After a friendly greeting, a member asked if I was from West Side. I had no idea what they were talking about so I replied, "Well, I'm no Maria but I do feel pretty," which was apparently equally nonsensical to them. Later I learned that thirty kilometers south, in the tiny coastal town of Pentz, the minister of West Side United Church, Rev Neil McEwen is gay and married.
The service was conducted by Rev Jeff Chant. During the social times, I had a chance to talk to a number of members and it became obvious that over the last few years, he has dragged the congregation cheerfully kicking and screaming into the 20th century and was the shepherd of this transition -- which was not particularly contentious.
I'd never heard a trans hymn before, but we sang one! As Colors In The Sky -- here are the lyrics which are quite specific, not metaphorical.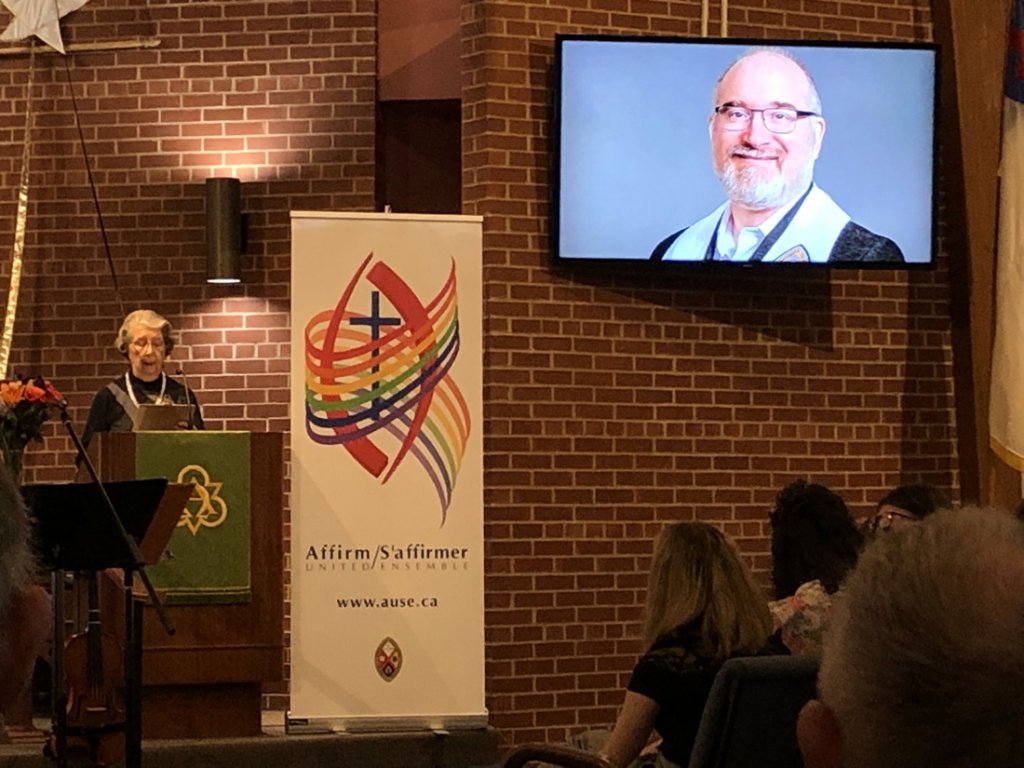 In terms of high tech, also as a first for me, during the social time before, the video screens display a countdown, minutes and seconds, to the start of the service! Hymn lyrics on the screen are now fairly common; hymnbooks are available but none of the hundred or so assembled picked one up. During the "mission" part of the service, the screen was used to show a promotional piece for the United Church Rainbow Camp for LGBT teens, and for a photo of United Church of Canada moderator Dr. Richard Bott while a congratulatory message from him was read.
For the time with the children, Rev Jeff had a bowl of M&Ms, and discussed with the gathered kids how the colours were different, and how they were the same. When he asked how the M&Ms were like people, "We can eat them" said one kid. "We're chocolate inside," yelled an adult from the congregation.
One can guage the future of a congregation by the proportions of silverbacks and the numbers of children; Bridgewater United has a substantial number of the former and, at last Sunday's gathering, about ten of the latter which bodes well for long term health.
I missed one fairly common tradition in Christian worships, the "Passing of the Peace" where you're encouraged to shake hands with all of your pew neighbors and say, "Peace" or "Peace in Christ." And, the church's Lord's Prayer is still the "Our Father" version which many United congregations have phased out in favour of more inclusive language.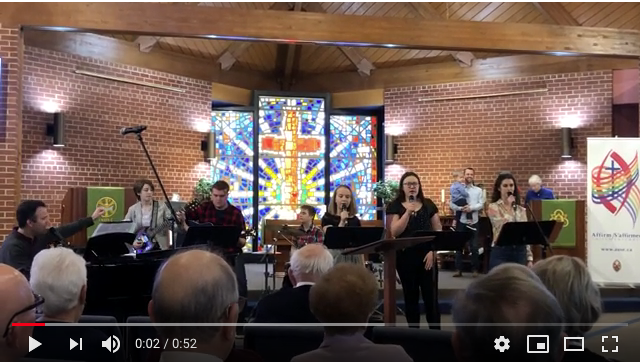 A rock band is an asset to any worship service. "ReGenesis" is Bedford United Church's youth band, under the direction of Rick Gunn. Click the image for a short video.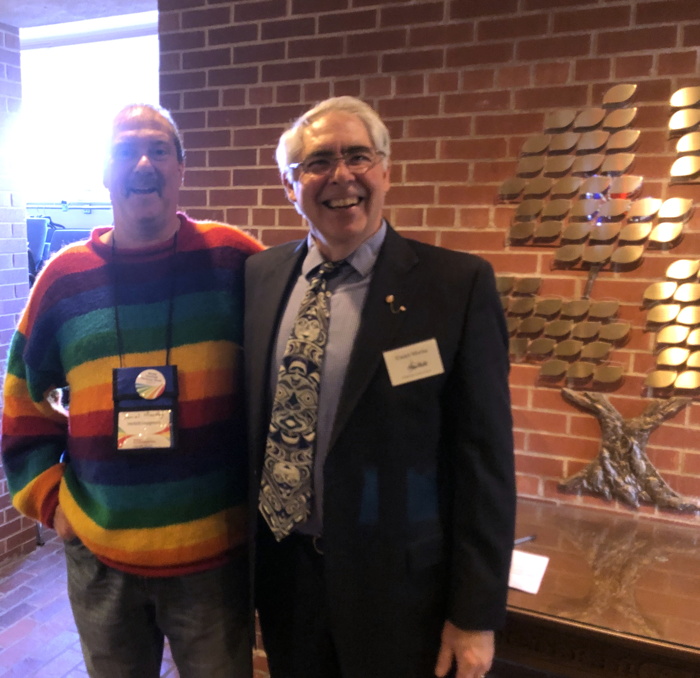 After the service, most people moved to the Hall and we consummated the celebration with cake, punch, sandwiches, squares and conversation.
I was surprised and delighted to see my now-retired family doctor from the 1970s, Dr Ewart Morse, as one of the council members. The man has a formidable memory: I haven't seen him for at least thirty years and he remembered my job, my partner, and that a houseplant, a parlour maple, that my Mom had given him in 1975, is still in his home, and invited me to drop by and visit it.
Thinking back to when I was a teen in what was at the time a very homophobic, redneck part of the country, I could never have imagined that there would be a welcoming place of worship in the community for me. Congratulations, Bridgewater United, on completing this journey.