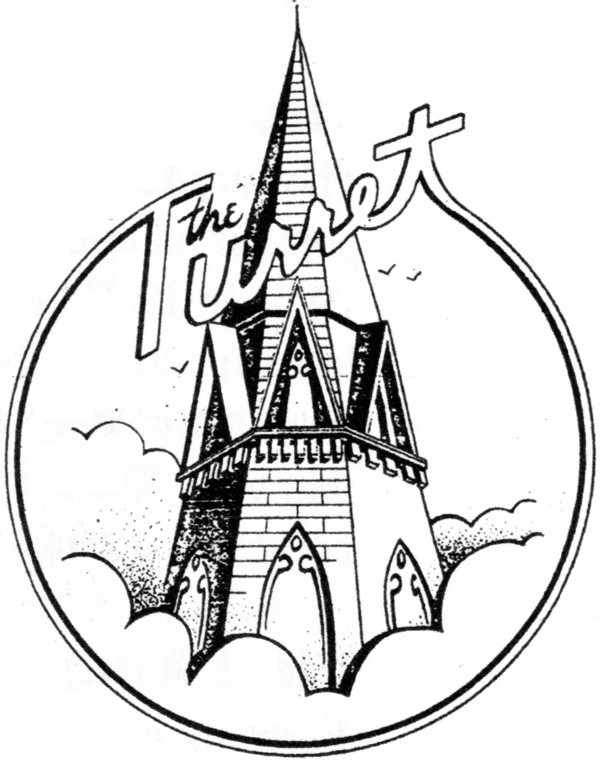 Rand Gaynor's celestial logo seems to anticipate the near-mythic place The Turret holds in the memories of many in Halifax's queer community.
By Hugo Dann
Queer query: What do a Church of England Institute, wartime Naval Officers' Club, firefighters' association, cinema, gymnasium, alternative bookstore, Queer Community nightclub, and a contemporary arts centre all have in common? Answer: Over the course of the past 125 years, at one time or another they've all inhabited the graceful dowager queen of Barrington Street, the Khyber building.
Commissioned by an Anglican Bishop (the charmingly named Bishop Binney), the Victorian Gothic Revival building was designed by Henry F. Busch (also the architect for the campy bandstand in the public gardens) and opened as the Church of England Institute in 1888. Its lecture hall once played host to Anna Leonowens, speaking of her time at the court of the King of Siam. Since then it's had a plethora of varied residents, including the much loved Khyber Café, which gave its name to the current occupant, the Khyber Centre for the Arts. They recently held a lunchtime media event to kick off the anniversary celebrations.
Elizabeth Pacey, renowned champion of Halifax's heritage movement spoke of its hair's breadth escape from a developer's wrecking ball, even after receiving it had teceived one the city's first heritage designations. Singer/songwriter Dusty Keleher led everyone on a 'top to bottom' tour, recounting stories of the weird and wonderful uses to which Haligonians have put this beautiful old structure. However, for LGBTQ Nova Scotians, especially those amongst us of a certain age, the Khyber will always be remembered as the home of The Turret, Halifax's legendary gay and lesbian nightclub-slash-community centre. National queer treasure, Robin Metcalfe (Saint Mary's University Art Gallery Director/Curator) was on hand to shed light on the years when the building's top floor was the headquarters for the Gay Alliance for Equality (GAE).
"Largely because of the Turret, GAE was virtually unique in North America," Robin told the assembled press. "GAE was a broad-based community organisation that was the region's main source of queer political, social services, and cultural activities." He noted that, in addition to being the 125th anniversary for the building, 2013 also marks the 40th anniversary of the formal establishment of GAE. "They owned and operated the chief lesbian and gay social venue in town. From 1978 to 1983, hundreds of people carried Turret social membership cards in their wallets, and the memory of that first community-controlled lesbian and gay space has acquired mythic qualities, becoming a powerful vehicle for local Queer identity, invested with community pride."
Before coming to Halifax in the late 70s I'd had my share of experience in gay bars in my hometown of Montreal, but The Turret was unlike anything I'd known, with gay men and lesbians dancing and partying together. While they tended to congregate in different corners of the bar, they were nonetheless working side by side on the door and serving drinks, and the hopping, happening dance floor brought everyone together.
I wanted to ask Robin about what exactly made The Turret experience so singular. We spoke after the reception. "The right ingredients came together in that post-Stonewall moment. Lesbians and gays across North America were organizing but in most places, the movement was being driven largely by gay men, mostly well-educated, middle class men. GAE always had a large number of women involved and taking leadership roles. The movement here was also very working class."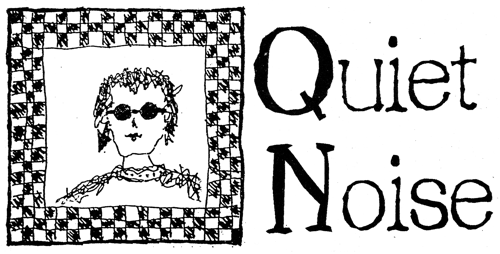 The Turret (and GAE were an incredibly creative exercise, with a strong interaction with queer and allied members of the arts community. From Rand Gaynor's iconic Turret logo to protest posters designed by Jim McSwain and Jane Kansas' self-portrait in the Gaezette, Halifax queers were insistently designing, writing, and performing proud identities. My own experience came about through acting in a performance of a musical about a police raid on a gay bar, based on a famous raid in Montreal, The Night They raided Truxx.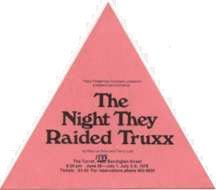 Robin recalled an event at The Turret featuring poetry and performance. Clairemarie Hayley portrayed Gertrude Stein with Jim MacSwain as Alice. B. Toklas, wading through a rowdy boozy crowd to recite Stein's famously obscure texts; MacSawin as Toklas urging Gertrude, "Have another brownie!" They were a huge hit with the crowd. "Culture matters," Robin says. "The community recognized and responded to this icon of queer identity."
It seems fitting that this formative queer space is now being administered by artists. The Khyber Arts Centre is working to make sure the connection survives. The NSCAD Queer Collective is currently occupying the space, reclaiming The Turret for queers. (Editor's note: Read Dan MacKay's interview with NSCAD QC about their plans here.)
The Khyber is embracing the responsibility of curating the building's multiple histories. They understand that the building has meant a lot of different things to different people over the past 125 years. The Khyber has made it its mission in this anniversary year to discover as many stories associated with the building as possible, and to combine these in a comprehensive and dynamic archive that will eventually be available for research and public viewing. To this end, it has set up a dedicated Facebook Page calling people to submit anecdotes, photos, and ephemera relating to the building's diverse history and various incarnations. I hope Nova Scotia's LGBTQ community responds to this opportunity to share our stories and history with the rest of the world.
The Khyber is a symbol of a changing Halifax and a powerful reminder of how transitory queer spaces are; how fragile our history is, and how reliant its preservation has been on our engagement with such spaces. So much has happened in 40 years. Lives lived and lost. Battles fought and won, with all the wounds and heroism of battles everywhere.
Sitting quietly with Robin in a room where once, as a community, we debated and dreamed and danced, he says, "I'm very proud to have been part of movement that set out to change the world. And did. In a very short space of time." He's right. We did change the world. We're changing it still. "We're here. We're queer. We're not going away."
Editor's Note: GAE changed its name to Gay and Lesbian Alliance in the 1980s. The organisation eventually disbanded. Its place was taken in 1995 by the Nova Scotia Rainbow Action Project.
Anyone with an interest in the history of Halifax's queer community through the 1970s, 80s, and early 90s, should get a hold of Queer Looking. Queer Acting, Robin Metacalfe's catalogue from his brilliantly curated art exhibit of the same name. Published by Mount Saint Vincent University in 1997. It is one of the best queer history books ever produced in Canada, seamlessly interweaving together personal anecdote with history and the extraordinary artistic creations of a unique time and place.
Hugo Dann is a Halifax based queer activist and actor, and former towel boy at SeaDogs Sauna & Spa.