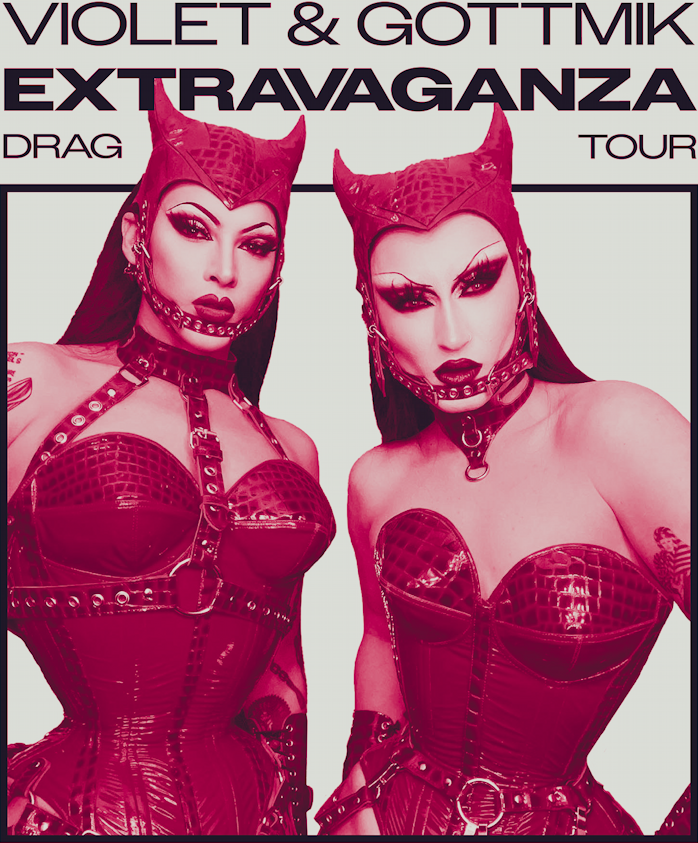 RuPaul's Drag Race superstars Violet Chachki and Gottmik's Drag Extravaganza tour will stop in Halifax for a show at the historic Spatz Theatre on September 10th, 2023.
The show features the stars of RuPaul seasons 7 and 13 respectively, as well as local queer artists Elle Noir, Queera Bang, X, Diana B. Tease and DJ Not Applicable. 
"We could not be more pleased with this cast, and to be bringing these incredible artists to the area," said Queera Bang, Glitter & Grit producer.
Chachki won RuPaul's Drag Race season 7, nabbing $100,000 and catapulting herself into the fashion and music industries, as well as breaking down cultural barriers. She became the first international drag queen to perform in India, and was invited to the MET Gala.
Gottmik was the first openly trans man to compete on Drag Race, and came in a shared third/fourth place. She is well-known in the fashion and music world, starring alongside Violet in multi-platinum artist Sam Smith's "Holy" music video. After her run on Drag Race, she did a drive-in drag show during COVID-19. She co-hosts podcast "No Gorge" with Chachki.
"These two artists have so much chemistry together. Elle Noir, Diana B. Tease and I are so excited to get to share a stage with them," said Bang.
"It's going to be a special night, and I think it'll be a show people will truly remember."
The Violet and Gottmik Extravaganza Drag Tour show in Halifax will be at Citadel High School's Spatz Theatre on Sunday, September 10th, 2023 at 8:00 p.m.
For tickets are available from TicketPro Atlantic here.