This year, eleven films at the Atlantic International Film Festival celebrate Q culture.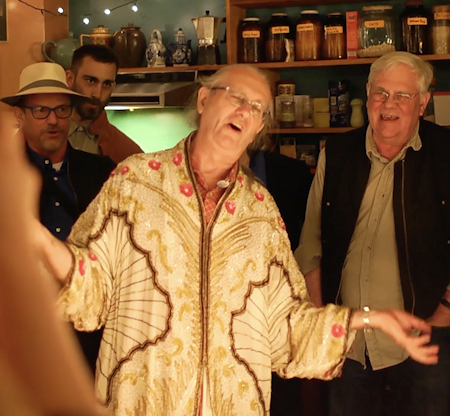 The highlight of course, is the very artsy biopic about local long time activist and artist, Jim MacSwain.  Wayves did a piece about CELESTIAL QUEER earlier this year; the debut will be at the AIFF. Filmmaker Eryn Foster writes:  Dearest Friends, Foes, Lovers and Fruit Flies! Next Monday Sept 18th at AIFF is the World Premiere of Celestial Queer, a feature doc project I've been working on (for a very long time!) with the best collaborators including Sue Johnson, my co-director and co-producer. The film stars the one and only James MacSwain, Nova Scotia's beloved queer artist, activist and bon vivant! Get the info and your tix before they sell out!
In Nicole Bazuin's THRIVING: A DISSOCIATED REVERIE, Kitoko Mai (the film's star and screenwriter) plays a nonbinary former sex worker who has been diagnosed with dissociative identity disorder.
ORLANDO, MY POLITICAL BIOGRAPHY presents a personal testimony of trans people living today woven into a free-form adaptation of Virginia Woolf's Orlando (a book in which a man wakes up in his middle age suddenly transformed into a woman).
Elliot Page stars in Dominic Savage's CLOSE TO YOU, a film that works to capture the awkwardness, the nerves, the joys, and the tensions of returning home to family and friends after coming out.
Opening Night Gala is THE QUEEN OF MY DREAMS, a 2023 Canadian comedy-drama film in which Azra, a Pakistani Canadian woman with a strained relationship with her parents since coming out as lesbian, undergoes an emotional journey after the sudden unexpected death of her father.
Other Q interest titles:
Cheerleading drama BACKSPOT
The Rachel Sennott-led dramedy I USED TO BE FUNNY
Chloé Robichaud's DAYS OF HAPPINESS
The coming-of-age feel-good FITTING IN
and short films TESTING and MICKEY.
There's a full article about the Q lineup here, and the main AIFF site is here.