Wayves recognizes that we live, work and play on the unceeded territory of the MI'kmag. We are all treaty people.
This is a regular column for Q Atlantic Canadian news items that we can't do articles about.  If you have any additions, email us!
Prince Edward Island
Documentarian, activist, and occasional Wayves contributor Dave Stewart has been honoured with the 2023 Charlottetown Heritage Day Award for his series, Before Grindr: The Secret Social History of Gay & Lesbian PEI, an overview of queer life in Prince Edward Island pre-Internet. Here's Charlottetown's press release.  Here are the YouTube episodes.
New Brunswick
June 23rd: Film debut: Y a une Étoile.
The photo collection and story about 1930s gay couple Len And Cub, published last year, will be made into a TV series!  Their story has been picked up for a six-part television series by Page Boy Productions, a company owned by Canadian actor Elliot Page. Here's the CBC story about it.
Nova Scotia
Clare, on the French Shore, is having a tintamarre de fierté + debut of Y a une Étoile on June 27. Details here.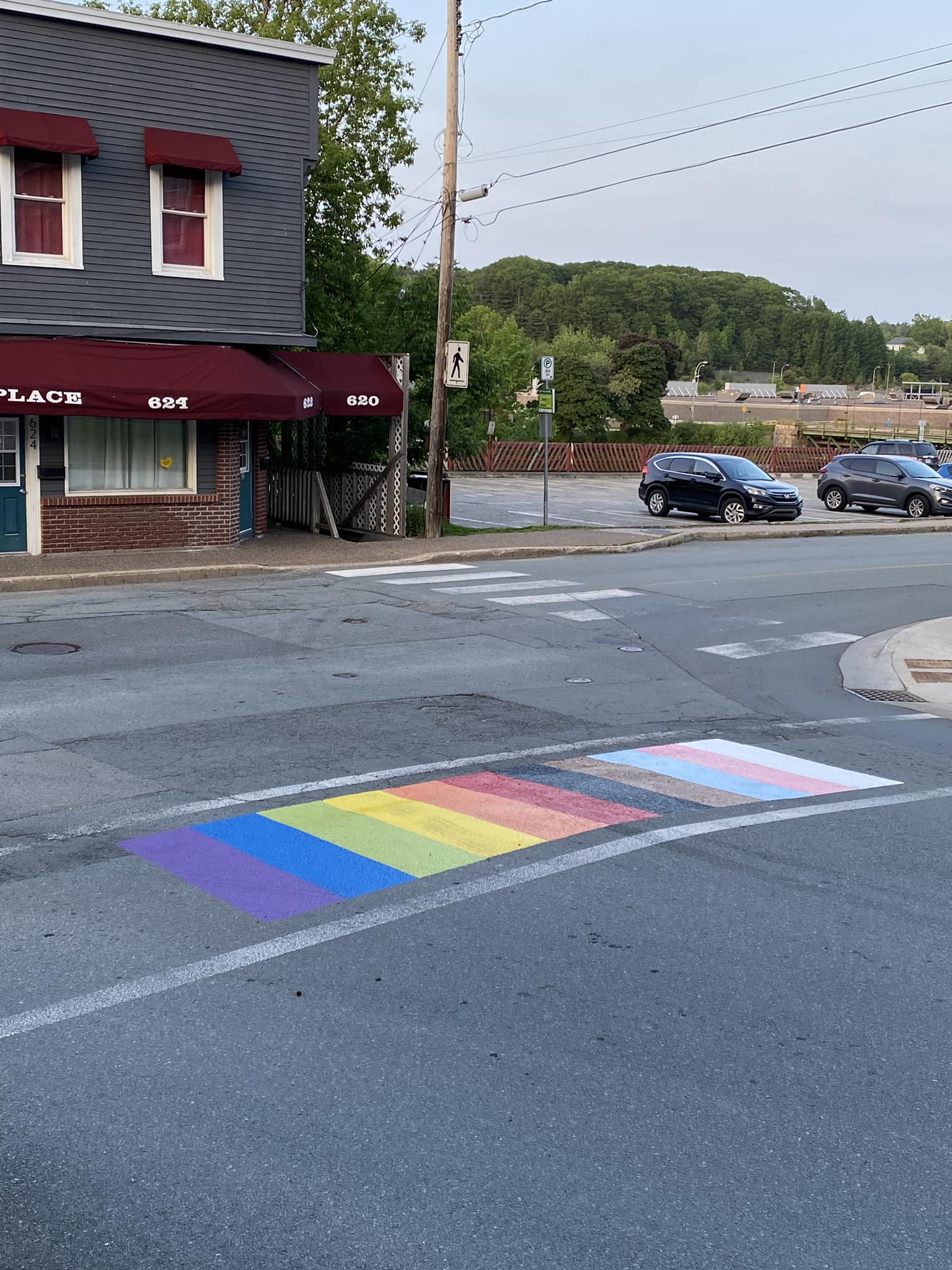 Bridgewater is celebrating its first Pride Parade on July 9th! Also, the town's first Pride crosswalk, near the intersection of King and Dominion Street was inaugurated on the 15th. The Parade starts at 2:00pm: route: NSCC; High Street; Empire St; King St; ends at King & Dufferin. The 18+ After-party at FirkinStein Brewing.
Lunenburg Pride presents Queer Comedy Night in Bridgewater, Thursday, July 13, also at the FirkinStein.  Tix & Details here.
On June 8, madeline yakimchuk (no pronouns, lower case letters please) posted unambiguously to Facebook: MAID tomorrow 11am. Apologies to all who don't know.  After travelling all over the world, the activist, visual artist and filmmaker settled in Cape Breton and become involved with Cape Breton's Youth Project and Queer Elders organizations. madeleine's full obituary, written by friend Madonna Doucette, is here.
Two members of the Queer And Trans Friendly Therapists of Nova Scotia Facebook group have created a directory for those seeking a therapist.  It's been published in the Halifax Rainbow Encyclopedia here.
Halifax
As mentioned last week, June and July are packed with Q events. Here's the full calendar. Publisher Dan created his own set of highlights of upcoming events for CBC Mainstreet, here.
Are you a fan, friend, admirer of Jim MacSwain? There's a film retrospective this Friday, the 23rd as part of the HIFF (Halifax Independent Film Festival). Of course, there will be a party to follow later on that night. This will be a rare opportunity to see some of his films as they were originally meant to be seen, projected on film! Hello cellulose, nice to see you again. Tix are $14 and you can also buy a festival pass for $40, on the HIFF website.
Officially, the Halifax Pride Festival is July 20 - 30 but there are over a hundred events outside this window; notice that there is a stack of events on the day of the official Pride Parade, Sunday, July 23rd.
The Halifax Events Calendar team would very much like some help - someone to keep on top of new events and add them.  If you'd like to be on that team (or any Wayves team) please email us.
Halifax Public Libraries is inviting the public to "Dream Big" -- what would you like your library to be and do?  Q voices need to be heard here, so if you have any interest in the library, or might if it were different, participate here.
New: Queer Geocaching club for Halifax. Organized via a FB group. 
And a monthly Q Dog Owners + Non Dog Owners Together - next one, July 9 at 1:00pm on the Commons. Organized via a FB group.
---
Do you have some Q Atlantic news, big or small? Email Wayves with the particulars!