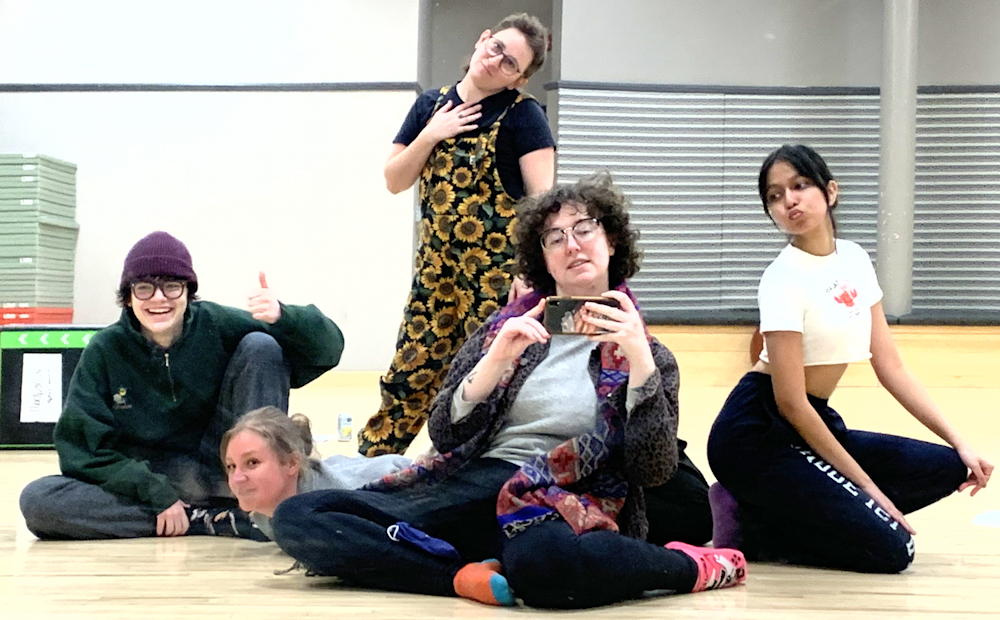 After last week's interview by Wayves writer Cormac Newman, Wayves has a review the play itself.
Water, Baby!  running just under 40 minutes, has revealed a confident display of vulnerability.
In the photo: stage manager Jessica Hannaford (they/them); Linda Meian (she/her) as "B"; director Rooks Field-Green (he/they) (standing), designer Cat McCluskey (they/she); playwright & "A" Trisha Dhar Malik (she/her). 
Also: production assistant Griffin Bjerke-Clarke (he/him); sound designer Keith Morrison (he/him).
A poetic audio opens the play, against a lakeside backdrop complete with moving water. The actors don't waste time: "A" greets us with a passionate monologue before "B" strolls on stage. Their chemistry lubricates the plot, pushing action forward as they peel back the layers of character.
Water's script presents a curated dysfunction. The actors explore a nuanced relationship through repetition. Scenes dissolve only to repeat and reform like siblings; the same DNA, the same action, with vastly different responses.
The play investigates the "what if I said..." that we know the main character is constantly thinking. It plays out seemingly-infinite possibilities, striving to crack the code of interpersonal communication.
Essentially, though, its meaning is as malleable as the water it embraces — the conclusion a viewer draws says more about them than the author.
Isn't that what art is supposed to do? Present realities so explicit in their emotion, they force introspection. In this sense, Water, Baby! couldn't be more successful; you'll leave wondering what A and B — or maybe what you — should have said.
Wayves writer Cormac Newman interviewed the playwright; that interview is here.
Water, Baby! opens on Wednesday, April 26th at the Bus Stop Theatre, 2203 Gottingen Street. It runs through April 29th. Tickets and showtimes are here.
See this Wayves article for a full list of pieces in OutFest 2023 and a link to the schedule.